From flipping houses to leading the sales team with Canada's largest private sale real estate franchise network, strong female entrepreneur paves way for future ambitious entrepreneurs.
Franchise Development Strategist, Daina Peterson-Hernden, is no stranger to the world of entrepreneurship and franchising. From a young age, she saw first hand the challenges and rewards of business ownership, as her parents were serial entrepreneurs. The entrepreneurial lifestyle was a way of life for her family, so it came as no surprise when right after high school, Daina opened her first retail store under the guidance and support of her experienced mentors – her parents.  

She quickly learned that her love for connecting with customers and building relationships was positively correlated with making the cash register ring – cha-ching! With her knowledge of business and accounting, she slugged it out in the rural Nova Scotia retail world, owning a shoe store, women's fashion boutique, and a bridal shop. It was here where she discovered the unique challenges of starting out as a young woman in business.

"It was like swimming with the sharks," she recalls. "Sharks in suits. The bankers, the accountants, the lawyers the lenders; nobody took me seriously. I learned that I had to be loud to get noticed and quitting was not an option. I wasn't going to let them eat me alive so I kicked harder to keep my head above water." She resolved to prove herself, and so she did.

After several years of overcoming obstacles in growing her business, Daina made her first foray into franchising. She took her next leap of faith by selling her established business and entering the exciting world of women's circuit training fitness. Albeit a new idea to Canada at the time, she was one of the first to jump on board and within a few months, she had already become a successful multi-unit franchise owner of four strong locations. She ultimately grew her first location to one of the largest in the country, in one of the smallest territories – an area which didn't even exist on the franchisor's map when she first inquired. In this time, she grew the business to over two thousand gym members and managed a staff of 34.

"What helped me hit my goals and what really made it worthwhile was that the franchisor gave an incredible amount of support, powerful marketing campaigns, top-notch training, solid operational guidelines and so much more," she explained. "It was all laid out for you, like in a toolbox. You could be in business for yourself, but not by yourself. I remember equating it to paint by numbers artwork. Follow these steps and you'll end up with a masterpiece. The beauty was in the system, a system you could own and put your work ethic behind. It made so much sense to me."

Always looking ahead to what's next, Daina didn't stop there. After working her business with great success, it was time to sell and try something new.

As a self-proclaimed real estate junkie, one of Daina's guilty pleasures is watching home renovation and house-flipping shows. Not one to stand on the sidelines, she decided to start building a real estate portfolio. After doing some initial market research, she excitedly bought her first flip. Like most new flippers, she became hyper-focused with whether or not she could turn a profit. With so many people watching to see if she would continue her track-record for success or swing and miss, she was determined to prove the naysayers wrong.

Serendipitously, she recalled reading about a real estate marketing company that was doing things differently; the David to the Goliath real estate industry – helping average Canadians keep more of their hard-earned money in their pocket. Upon further research, PropertyGuys.com came into the picture and her real estate journey really started to gain momentum. Daina quickly learned that with PropertyGuys.com, homeowners are able to cut out the middleman and keep their hard earned money where it belongs – in their bank account. When she saw that this system helped people sell on their own terms, she immediately thought, "What if I sold this property on my own using their service? I could make even more on the flip."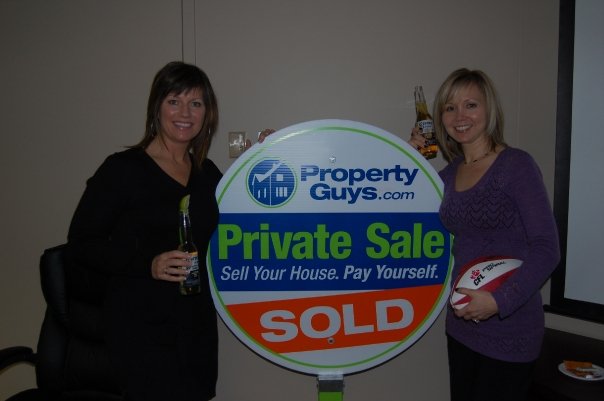 She made a call to PropertyGuys.com and her life changed forever. She listed the house and sold over asking price within 4 days – making $30,000 that would have otherwise gone to an agent. I thought to myself, "This concept is brilliant and why isn't everyone doing this?" she said.

It wasn't long after that she made a call to the PropertyGuys.com National Home Office in Moncton, NB to start the process of learning about their business model and understanding how she could become a PropertyGuys.com franchise owner in her town. Although her location was already taken, the current franchisee was looking to sell due to personal circumstances. It had to be a sign, so again, Daina jumped in head-first.

There was only about 7% market share in the territory when she purchased the territory. After Daina attending the PropertyGuys.com University (PGU) training session, she was able to grow the business to 37% market share in a short period of time. There are many steps to make this happen but at the end of the day, it came down to building relationships and celebrating every sold sign. Before long, Daina became a trusted local expert in everything real estate.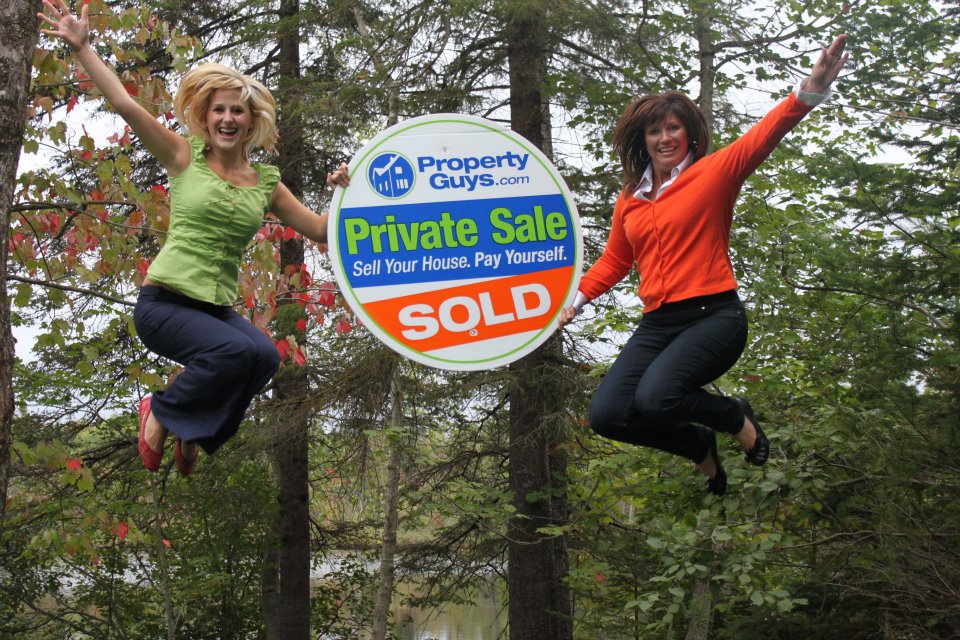 "For the first time in my life, I felt at home. Being part of PropertyGuys.com was like working within a big family," she said. "The franchisees were like-minded and supportive, the corporate staff and owners were like friends. I fell in love with the concept, the culture, and the brand. It worked in my favor. It's easy to sell something you love and even better, something that you've used! To me, selling is nothing more than a transfer of confidence. If I can make you feel as excited about this concept or product as I do, especially with some experience and proof…you are sold on it too." And sell, she did.
Daina was one the company's top performers and award winners during her tenure as a franchisee. She even brought a friend (another young female entrepreneur) on board who purchased the neighboring territory and mentored her to success. With this amount of growth and exposure, it was no surprise that people came knocking on her door to buy her business. She entertained offers from real estate lawyers, ex-agents and business people alike, but it was a chance meeting with a husband and wife team of mortgage brokers that eventually sealed the deal. The decision didn't come easy and for the first time in her career, she had seller's remorse.

She missed the business, the fellow franchisees, the culture. She went on investing in real estate and rental properties but longed for her franchise family.

"It felt like a break-up," she explained. "I mourned the loss of my business, even though it seemed like the right move at the time."

She stayed connected and one day noticed a friend and past franchise owner share that they had accepted the role of Franchise Development Manager for PropertyGuys.com's corporate team. She wrote a single Facebook comment on his post of, "dream job", which again lead to a fateful, life-changing phone call. She was offered a position on the franchise development team to assist in selling exclusive territories across Canada.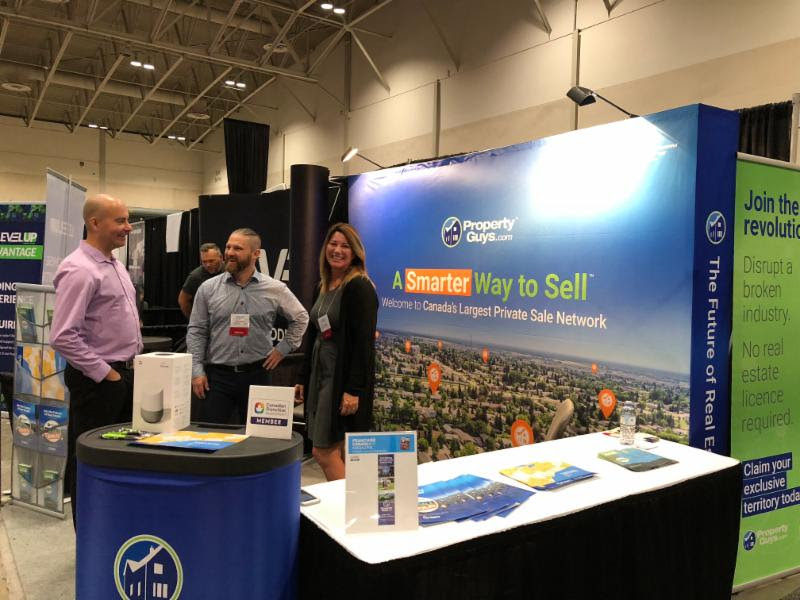 "Finally, I was able to work with people in a corporate setting who placed as much emphasis on one's EQ as their IQ."

It couldn't have come at a better time, as the company was heading into a major growth spurt. Tackling the US market to sell master franchise licenses, building a new platform and enhancing the franchise candidate journey to help find the absolute best people for the business were a few of the major projects propelling the team forward.

"The role was certainly the right fit for me," Daina said. "I was made for it. Becoming a successful entrepreneur is not something you can easily teach or learn in a classroom. Either you have it, or you don't, and spotting those personality traits, characteristics, and qualities is like a sixth sense for me. I feel everyone has a spark of entrepreneurial spirit within them, but fear usually keeps them from acting on it. That's where franchising comes in. If you can meet expectations and follow a system we can give you the proven system, tools, and support to be successful. I have the opportunity every day to help people realize their dreams of owning their own business, take control of their future, enjoy a better work-life balance and hustle harder for themselves.

"It really is a dream job!"
"My experience helps me tremendously in conversations with prospective franchisees. I know their fears and concerns. I know the questions they are going to ask before they do. I understand – because I've been in their shoes. I can relate to young entrepreneurs, people wanting career changes, real estate investors, and mothers who want to grow their own business. I speak their language and I have their back. If they have the drive and confidence to leap, I have the passion to help them land on their feet and realize their goals.

In 2018, PropertyGuys.com had a record-breaking year in franchise sales. Selling a new franchise location on average every 20 days.

"We're crushing our goals as a team and bringing quality franchisees into the system. We continue to gain momentum and get stronger."

With Canada nearly 80% sold out, people often ask Daina, "What if you sell yourself out of a job?"

To that, she smiles and says, "We're going international. I've got the whole world in my hands."

And she does.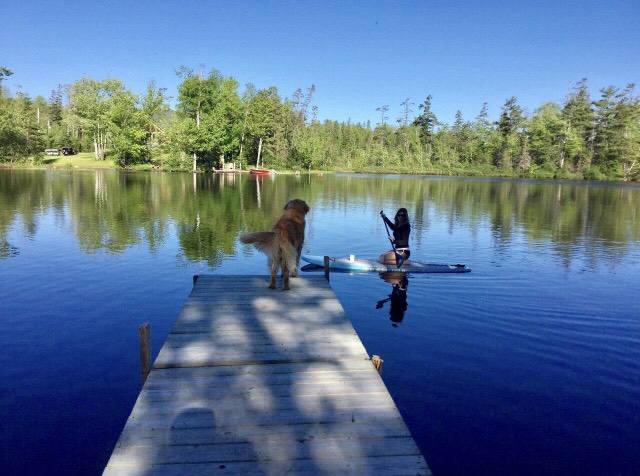 When not traveling to trade shows, chatting with prospective franchisees, and making plans, Daina can usually be found on water, somewhere in Nova Scotia with her sidekick, Ellie, the Golden Retriever.
Ready to jump in and take control of your future? Daina can relate. Get in touch today!