We have been trying to find a work-life balance since the industrial revolution, only to have companies like Google come and disrupt that completely by intentionally blurring the lines between the two.
The theory behind designing a work space where comfort is key and play is encouraged, is of course to keep your employees happy, nourished and rested so that they can perform at their best and ultimately benefit the company. What initially was a cowboy move from a young tech-company, ended up shaping an entire design movement around the world with a holistic approach to employee happiness and enhanced productivity.
So, while we redesigned the majority of our office space in 2016, we have a new space that needs a facelift. For this last piece of the puzzle, we wondered if there was even more to consider when designing for both aesthetics and productivity. Here's a look at the trends that are shaping office design in 2017.
Integrated Tech
Technology integrated into our work spaces enable us to collaborate more efficiently. With many employees now choosing to work remote and with more and more companies collaborating on projects across continents, having technology that bridges the gap between physical environments and digital environments have become essential.
Digital whiteboards for brain-storming sessions, video-conference-ready workstations and wireless charging of digital devices all contribute to efficiency. And in the next few years, virtual reality will take this digital integration to a whole new experience level.
Credit:

HOK
Cubicles are back
But not in the way you may think! Modular furniture that adapts to the needs of the employee, whether they prefer to sit and work on a couch or at a traditional desk. These spaces have been designed to be easily adjusted to accommodate one person needing to work on their own, or a few people for a collaborative project.
The Hive is a modular system of cubicles that are able to adapt to the needs of the employees with its variety of possible configurations. It was developed by Cleveland-based Abeo Design and is made from the salvaged wood of abandoned buildings, giving it a green thumbs-up as well.
All units are on caster wheels, making it very simple to move around when required. "Our products are hyper-mobile and enable the only certainty in the workplace – change."
Open-plan for maximum flexibility
Just as cubicles are more flexible based on individual employees' needs, so too are other spaces in the office. These include areas that can become bigger or smaller to incorporate groups of varying sizes for meetings, conferences or events without the need for structural changes. Boardrooms, meeting rooms and private offices can be integrated into general spaces by opening sliding panels or moveable walls, while still being able to provide privacy when required. The need for transparency in business is also evident in the use of glass to partition areas, instead of solid walls creating a divide.
Canteens for down-time
Following Google's example, a nourished employee is a healthy, happy and ultimately productive one. Canteens don't only consist of the water cooler and a fridge filled with left-overs anymore. It is now a holistic space for relaxation, meals, informal meetings and breaks. Freshly brewed coffee and healthy meal options are only part of the offering. Many canteens now also incorporate lounge-type seating and recreation in the form of electronic gaming and games tables. Some even have pods for naptime. These elements have been incorporated to create a home away from home, where employees might just want to stay longer.
Green spaces to recharge
Nothing better to invigorate and recharge like a walk in the park, or read a book under a tree during your lunch break – even if that tree is on the rooftop of your office building. Green spaces, both indoor and out, are becoming a big trend in office design, further contributing to the mind-body approach many companies are now employing.
Credit:

HOK
Added benefits
With a large part of the modern workforce made up of women, companies now also have childcare facilities to encourage parents to stay on board. And if you have no time to go to the gym, make sure you work for a company that has one on site. This is just another way to make sure that employee morale stays high.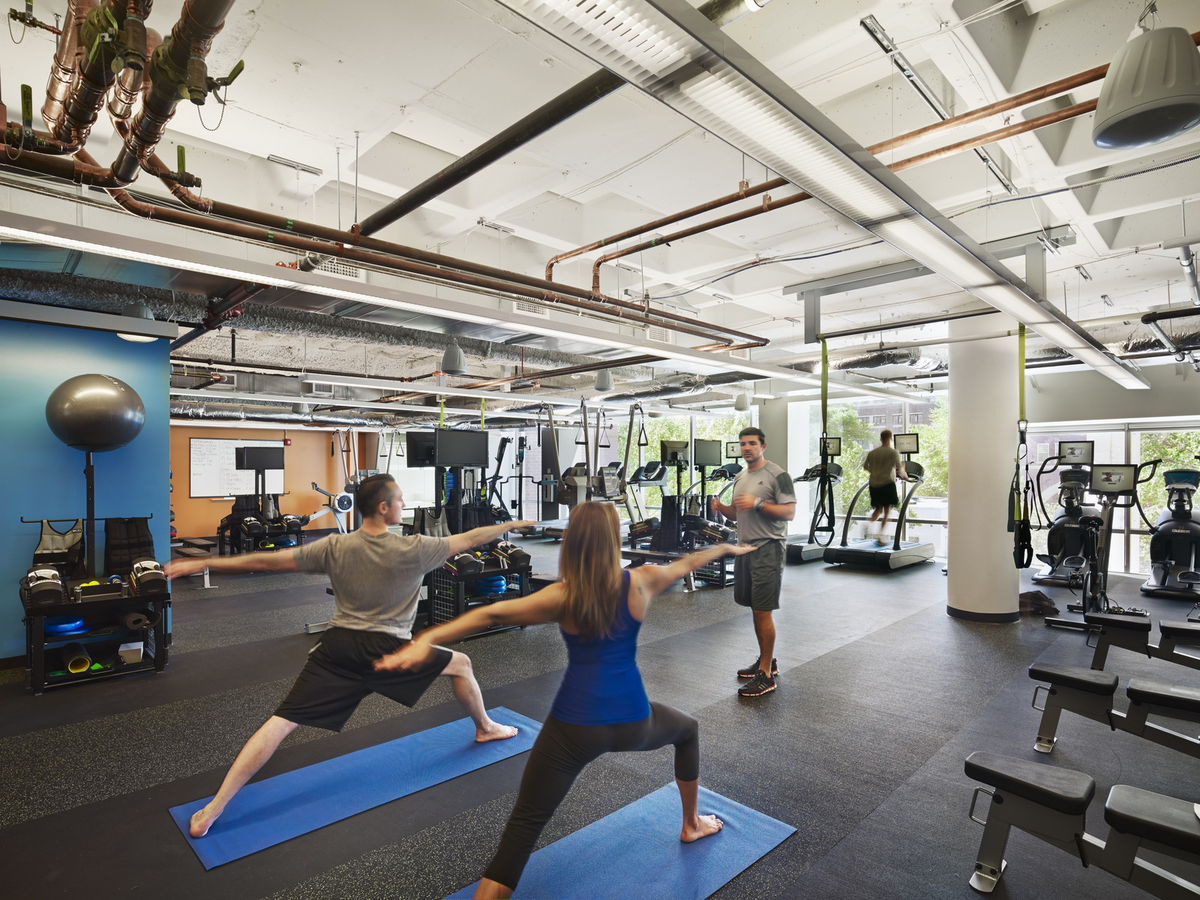 What trend would you like to see at your workplace? Share this article or send us an email with your thoughts!
---
Germarie Bruwer
Germarie is a full-time blogger with an award-winning blog called Homeology.co.za, focusing on interior design, decor, trends and DIY. After a successful 16 year retail interior design career, with well-known brands like Laura Ashley, Fendi and Christian Dior, she left corporate design and became a pro blogger. She writes on all things interior from her studio at the back of an old farm house in the beautiful Franschhoek valley, where she lives with her husband and 3 boys.