House fires can be a devastating. The worst of them can leave an entire family homeless and feeling as though they have lost everything. Thankfully, there are steps that can be taken to prevent or at least decrease the odds of one of these tragedies happening to you. We've compiled this handy list of the primary causes of house fires in Canada, and how to prevent them, because as the saying goes, an ounce of prevention is worth a pound of cure – especially when it comes to protecting your property.
1. The Cause: Cooking
The Prevention: Cooking is the leading cause of house fires and home-fire injuries, with the kitchen topping the list as the most dangerous room in your house when it comes to fires. Here are a few precautions you should take:
Don't leave anything unattended.

Turn off the heat if you need to leave the room or house to help your kids, take a phone call, or answer the door.

Don't overfill pots and pans with oil or grease.

Do roll up long sleeves and tie back long hair.

Keep cloths, kitchen curtains, towels, pot holders, and paper towels away from the stove.

Keep your appliances clean.

This is a big one! Pay particular attention to your oven and stovetop: food residue and grease build up is flammable.

Do have a fire extinguisher on hand.

Installing a fire extinguisher in your kitchen isn't a bad idea either; we have one in my house, and while it hasn't been needed yet, it gives me peace of mind in case anything ever did happen.
Pro tip: If you ever have a grease fire, remember to never put water on it. You want to remove all oxygen from the flame by smothering it with another kitchen tool like a frying pan or baking sheet or by using baking soda.
2. The Cause: Smoking
The Prevention: Smoking is the leading cause of home fire deaths – let that sink in. It can wreak serious havoc on your health, on the health of others, and the re-sale value of your home: and that's without a fire. If you do smoke, we can't stress enough that it's best not to smoke indoors. Make sure that your cigarette/cigar/pipe is fully extinguished, and never leave them unattended: it's common for some products to overbalance as they burn down. Be sure that your ashtray is heavy enough to not tip, made of nonflammable material, and verify that the contents of your ashtray are cold before emptying it into the garbage (preferably outside the house).
3. The Cause: Heating-related equipment/appliances
The Prevention: There are many preventative measures, they definitely can't all be listed here, so keep that in mind!
Unplug

small appliances

when they aren't in use – toasters, hair straighteners, kettles, etc. Keep appliances clean, well-maintained, and away from wet areas. Don't continue to use any malfunctioning appliances: get them fixed or replaced. Keep clothes, curtains, and any other potentially combustible items a minimum of three feet from all heating devices.

For

dryers

: make sure it's installed and serviced by a professional, and don't forget to clean out the lint filter every time. All venting materials should be rigid or flexible, and the air exhaust vent pipe should be free of restriction with the outdoor vent flap opening during the dryer's operation. Once a year, or more if required, clean lint out of the vent pipe or get a professional to do it for you. Other tips for dryers are available from the Fire Prevention Association

here.

If you own a

wood-burning fireplace or stove

, ensure that it is properly installed, well maintained, and don't forget to open the damper, and keep it open until the fire is out and the ashes are cool enough to touch. More tips on wood burning stoves/fireplaces are available from the Canada Safety Council

here

.
4. The Cause: Arson/Intentional fires
The Prevention: This might seem obvious (don't set fires)…but there ARE ways to decrease the odds:
Get to know your neighbours, and watch out for each other's properties, especially during any vacation or absence.

Report unoccupied/unused buildings in your area to city officials and ensure that they have the doors, windows, and other openings secured.

Clean up, dispose of, or otherwise remove any potential targets or materials that could be used to fuel the fire: piles of brush and leaves, garbage, old furniture that's been left outdoors, abandoned vehicles, gasoline and other flammable liquids.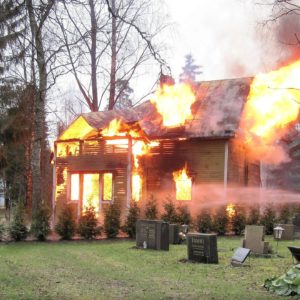 5.The Cause: Electrical
The Prevention: Check your wiring on a regular basis: look for receptacles that don't work, light switches that are hot to the touch, and lights that flicker. These are all potential problem indicators, and should be checked by an electrician. Any cords and plugs that are worn or frayed should be disposed of, and never break off a third prong on a plug to force it into a two-prong receptacle. Extension cords should only be used on a temporary basis and should not be run beneath carpets; if you need the extra length more often, get a certified electrician to install additional receptacles. In older homes, get your wiring checked by a certified electrician to ensure that there is no fire/electrical hazard. Some indications that you should get an electrician include slow-to-heat small appliances (toasters, irons), dimming lights while using certain appliances, and the need to unplug one appliance before using another.
6.The Cause: Candles
The Prevention: Regardless of how relaxing candles may be, don't leave them unattended, and be sure they are out before falling asleep, leaving the room, etc. Watch out for curtains, and ensure that your candles are out of reach of any children and pets to ensure that they can't be bumped over.
A personal anecdote: while living in a townhouse in my university years, one of the residents of the attached homes left a candle unattended, and the resulting fire gutted the inside of their home and spread across the roof of my townhouse. In the mid-January thaw, the water damage from the resulting leaks forced all of us to look for other accommodations and the landlord had to renovate both townhouses. So even though you might think that it's a small flame…with very little time, it can become a serious problem that can have far-reaching consequences.
7.The Cause: Miscellaneous: Cutting, Welding, Blowtorch, Children playing with fire
The Prevention: Caution, education, and discipline. Nobody should be using hazardous tools or items that they don't understand. If you're using tools that involve intense amounts of heat, be sure to read the instructions, and if you've never used it before, consult an expert for guidance.
When it comes to children, keep flammable items and fire starters out of their reach: lighters, matches, lit candles, etc. Don't play with fire around them, or encourage them to play with fire either. Have age-appropriate discussions about fire, where it belongs and the dangers involved. When you check your smoke alarms (ideally on a monthly basis, at minimum), make sure they know what the sound means.
For older members of the household, the National Fire Prevention Association recently published this Fire Prevention Week Quiz, which is a valuable source of information, as well as a great indicator of how well you know fire safety.
Fire is both essential to life and a pleasure we enjoy, especially in the cooler months when there's nothing better than relaxing by a crackling fireplace. However, the dangers are also very real, and everyone can benefit from exercising caution. Save this info, pass it on, and share your own prevention tips with us!
Have a story idea, comment or want to be a contributor? Connect with us at [email protected] today!
Special shout out to our partners at Canadian Homeowner!
---
Author: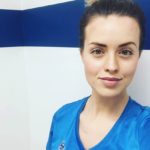 Amy Hurlburt
Amy is a communications associate for PropertyGuys.com Durham Region. She is also an editor for Canadian Homeowner.