Say 'hello spring' with these ten inspiring DIY projects that range from a simple bird feeder to invite feathered friends to your garden, to a lazy porch swing that will make you want to sleep outside.
1. Potting station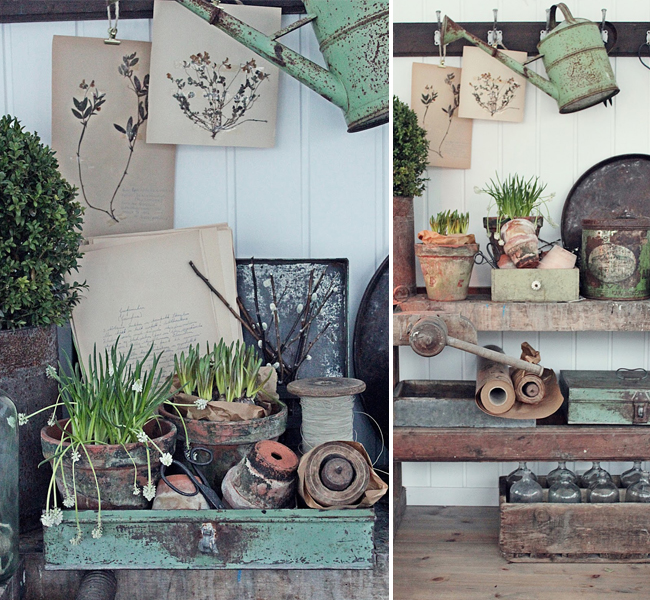 Vibeke Design
The first step in successful garden maintenance and planting is to get inspired and organized at your very own potting station.
You don't need to have a conservatory or even a garden shed to be able to create this beautiful and practical space. Simply use an old table, shelving unit or work bench with a collection of crates for storage.
Remember to keep it tidy, but have the items loosely arranged for that casual, outdoors look. A pair of neatly placed gumboots will finish off the look.
Search thrift shops for old gardening tools to use as props for your station, like the beautiful mint green watering can pictured above. Old pitchforks and shovels with interesting shapes are simply lovely and give some old-world charm to any potting station.
2. Swing on by
Outdoor or porch swings can be very trendy and modern. Go for a sleek look that has simple lines and finish it off beautifully with lovely fabric. Remember to think of all the aspects, even the rope you are going to use to hang it up with. This will make a big impact and can either make or break your project. Keep safety in mind as well as comfort. Have the pillows treated for outdoor use or ensure that they are removable to pack away when not in use. The structure can be as simple as a single palette with four ropes.
3. Feed the birds
One of the simplest and most fun things to make for the garden is a bird feeder. It's one of those magic projects that the whole family can get involved in and enjoy.
We simply love the upcycling element of combining a frame and the bottom of a pot plant to create this modern feeder. You can also use a clear plastic bottle with wooden spoons – cost effective and very clever.
4. Butterfly garden
It's become very important for the conservation of our planet that each one of us do our bit. So why not start by inviting butterflies to your garden? By planting suitable flowers and creating a safe place for them, they'll be flocking to your back yard in no time.
Include flat rocks to create a surface for the butterflies to perch and bask in the sun. Read more about the threatened Monarch butterfly and how to create a garden for them on Nature Canada.
5. Alfresco pizza
Extending your social activities to the garden or backyard is, simply put, a great way of utilizing your space to the fullest.
Pizza is as popular as ever and these sleek modern outdoor pizza ovens are a fantastic way of socializing outside. You can even have guests create their own pizzas for fun!
Learn how to build your own cob oven for great bread and pizza here on The Year Of Mud.
6. Living walls
One common problem that a lot of Canadians share, is having unsightly walls. Here is a quick fix to create a trendy diamond shaped pattern on the wall with a creeper plant without having it touching the surface. Climbers have the ability to do some serious harm to your walls. By using a wire grid suspended off the wall, you can create the perfect pattern without any damage. Keep the pattern in check by trimming it every so often during the warmer months.
7. Chevron privacy screen
Another common issue in a neighborhood where homes are built close together, is privacy. This beautiful chevron privacy panel is affordable and really simple to build. Follow the step-by-step instructions here on DIY Passion.
8. Focal walls
Garden walls should also be treated with the same love and attention as interior walls.
Why not create a quick and simple focal point with one of these ideas? Combine a few pots on a steel grid for a modern approach, a tree branch with air plants for the naturalist, or a very modern steel frame with climbing pot plants for the urbanite.
9. Good enough to eat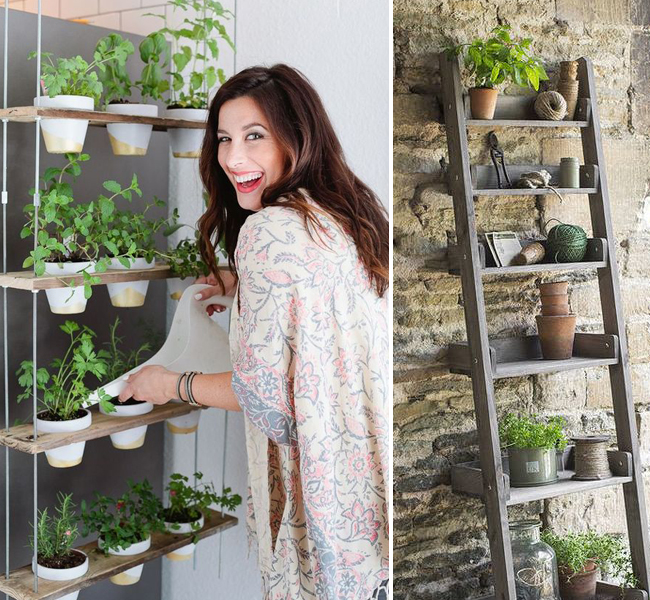 Fresh Mommy Blog & Not on the High Street
This is a big trend that originated in France. Have your garden work for you by planting herbs and vegetables in between your other plants. It makes a lot of sense and with a wide variety of herbs, your garden will look as good as it tastes.
Create your very own hanging herb garden in only a few hours by reading this very inspiring DIY from Home Industry Standard Design. Alternatively, you can combine a ladder with some potted herbs to liven up a dull corner on a patio. One of the most impressive herb projects we have come across, is this wall of herbs built from plastic crates. Vertical gardening at its best!
10. Please be seated
Wood cladding is a big trend in outdoor lounge areas. It warms up a space and gives it a trendy geometric quality. Combine it with all the luxuries of an interior lounge by adding comfortable seating and ambient lighting. Keep the centre pieces and styling simple like a tree in the pot with lanterns and overhead fairy lights to add some festive occasion to the space.
Have a story idea, comment or want to be a contributor? Connect with us at welcomemat@propertyguys.com today!
Author: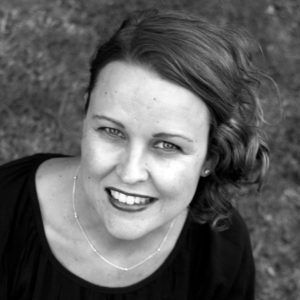 Germarie Bruwer
Germarie is a full-time blogger with an award-winning blog called Homeology.co.za, focusing on interior design, decor, trends and DIY. After a successful 16 year retail interior design career, with well-known brands like Laura Ashley, Fendi and Christian Dior, she left corporate design and became a pro blogger. She writes on all things interior from her studio at the back of an old farm house in the beautiful Franschhoek valley, where she lives with her husband and 3 boys.