Just call this house your fairy godmother, because it can make all your dreams come true. That is, if your dreams consist of living in a stunning home where every last detail has been designed for efficiency and convenience; where there are tons of recreation possibilities right outside your doorstep, with a jaw-dropping view of Lake Windermere and the mountains from your covered deck. Take advantage of skiing and skating opportunities in the winter; terrific beaches and plenty of sunshine in the summer. Whatever your sport – boating, swimming, fishing, kite boarding, mountain biking or golf – you'll find it in Windermere, and this low maintenance home makes it easy to balance your recreation and relaxation.
Home sellers Christine and Mike designed this place from the ground up to be their forever home, and put plenty of thought into every last detail for optimum efficiency and style. While their plans changed and they decided to sell and move into the family home (conveniently located by their business, Windermere's Shadybrook Resort), they're happy to be remaining in Windermere on the sunny east side of the Lake.  Located just 2.5 hours from Calgary on the warm side of the Rockies, Windermere is known as a popular weekend retreat for Calgarians and hosts a number of part-time residents all through the year, but especially in the summer. The lively, thriving community also hosts a number of year-round residents, including Christine and Mike.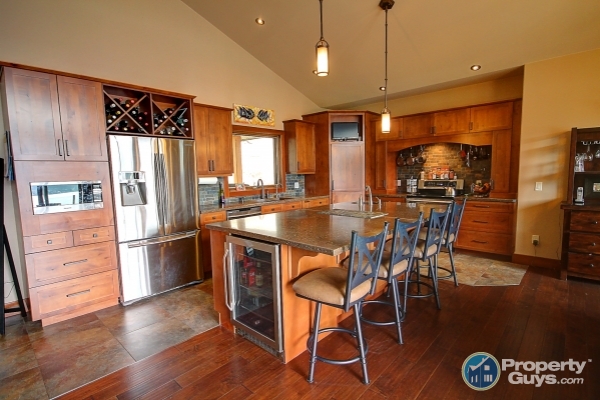 "We were both born and raised in the Valley," explains Christine. "I met my husband on a weekend back to visit my parents, and everything kind of fell into place. I knew this was where I wanted to start a family; to raise my kids in a small town."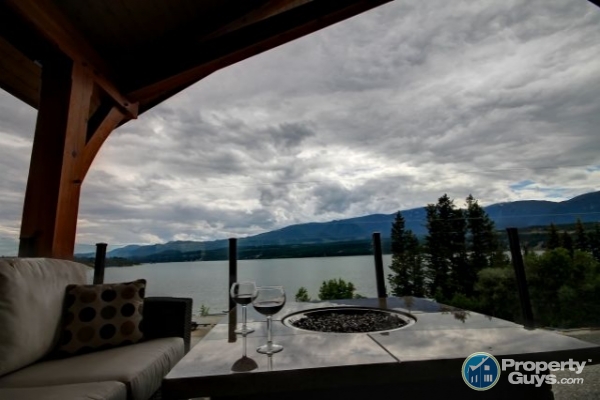 When Mike and Christine first purchased the property, they knew exactly what they wanted. The bay area in front of their home and elevation offered them a much more expansive view of the lake. The home was designed to be low maintenance. "We were initially planning to live here forever," explains Christine. "I didn't want to be 60 and puttering around doing repairs." The timber framing around the stucco and stone exterior blends in beautifully with the surroundings. Using natural, rustic materials was important to the sellers: "Windermere's a mountain lake town – we wanted a home that would reflect that," she says.
When they first began designing the custom home, Mike and Christine general contracted, with the help of her father. "It was a really busy time since we had a newborn, but it was really rewarding and all worth it in the end," says Christine. The process was a labour of love: they put a lot of time into the efficiency of the design and put a lot of extras in – including a laundry chute, in-floor heating, boot heater and a dumbwaiter. "I said to my husband when I moved in that I'm either carrying the baby or the groceries upstairs – not both," jokes Christine. "The dumbwaiter has been a godsend, but the thing I'm going to miss most is the view – not a lot of properties offer a view down the lake like ours."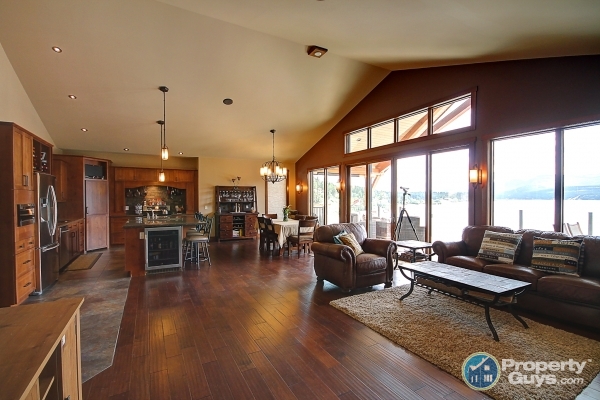 The home is also designed for maximum efficiency in every season. The vaulted ceiling is carefully calculated to take advantage of the property's elevated placement and jaw-dropping view straight down the lake, but ensures maximum efficiency in the open-concept kitchen/great room space. The floor-to-ceiling, three pane windows looking out at the lake, framed by the feature wall with a stunning, slate stone fireplace.
"The fireplace basically heats the house with wood all winter long," explains Christine. "It's easy to do when you live in the mountains with an abundant source of wood!" The huge deck makes a BIG difference for the south-facing house: "In the summer the roof mostly shades the deck, which means we can sit outside and be comfortable when it's 35°C in the summer, but we also get direct sunlight in the cooler months," explains Christine.
Outdoors, a rain collection barrel is used to collect the rain from the eavestrough for use in the landscaped gardens out back. The backyard itself is yet another great, multipurpose space that includes stacked stone walls, covered back patio from the main level, an outdoor shower, and a relaxing hot tub. The main floor walkout from the laundry room is yet another convenience: "I own my own business and I'm always busy, but I love the smell of sheets fresh off the clothesline," admits Christine. "If I didn't have the door from the laundry room to the backyard, hanging them out to dry probably wouldn't get done, but it's so convenient to just open the door and the clothesline is right there."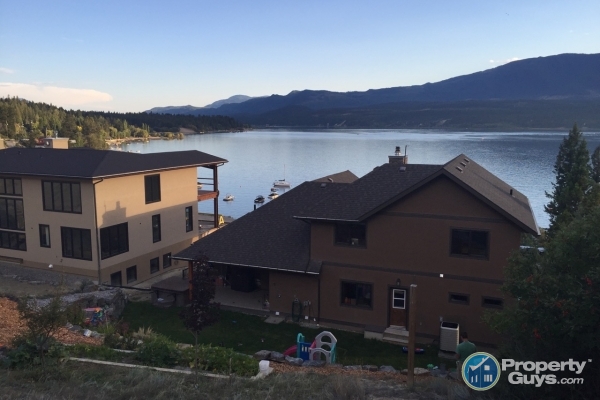 The master retreat is another luxury of this home: with a three-sided gas fireplace between the bedroom and ensuite bath, with its separate soaker tub, glass-walled shower and double vanity; this spacious area is perfect for privacy and relaxation after a long day. All five bedrooms are spacious and have plenty of space and natural light, and the convenience of having four full bathrooms makes it easy to entertain guests who visit throughout the year.
There really are too many extras to list in this stunning home, but here are a few more: custom concrete countertops, a reverse osmosis drinking water system, an oversized mudroom, a second pantry with deep freeze just steps from the kitchen, and an abundance of storage space in the attached three-car garage, which was designed to house a boat.
Deciding to list privately was a practical decision for Christine and Mike. "Real estate commission structure is not perfect," she notes. "I work hard for my money, and the percentage we would be charged is the same as some people's yearly salary. We're very willing to work with buyer's agents, but Mike and I are both business savvy and certainly capable of selling it ourselves." Buying this home is an opportunity to have something more than just a stunning home on a lake (although that might be enough) – it also offers a lifestyle and freedom that's increasingly rare. "I can work half a day and play the rest," says Christine. "When the lake's calm, I can go for a quick waterski on my coffee break, or go mountain biking before dinner. I can look out my window and decide to go kitesurfing in a moment's notice – the lake's right here.
Living here allows your kids to grow up to be outdoorsy, with vacation spots in your backyard. You can do anything you want to do – it's right here."

If you think this home might be the one for you, visit the full listing here.
Author: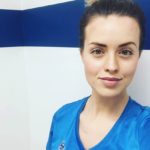 Amy Hurlburt
Amy is a communications associate for PropertyGuys.com Durham Region and contributor for Welcome Mat.