We live in an eclectic time in interior design where each home owner is free to bring elements from different décor styles, as well as individual interests to their designs, and still call it on trend.  That's the marvel of design in the 2010's. Here's a bite sized look at the last 100 years of interior design trends to gain more appreciation for how these different elements influenced our modern aesthetic.
1920's
The Modernist movements in architecture where design was stripped down to its essentials and form famously had to follow function, evolved into the movement the 1920's is most famous for – Art Deco.
This incredibly influential movement is characterized by luxurious, lavish materials such as marble and gold, used in geometric, clean designs.  Much use was also made of wood and other metals, and bold pinks, greens and reds.  Organic motifs such as florals and feathers, as well as stylized, industrious motifs of airplanes, cars and buildings adorned homes.  Most notable of these Art Deco buildings that got re-invented into various wallpaper and mirror designs, were the Chrysler and Empire State buildings.
1930's
Although Art Deco was still hugely popular in this decade, people started introducing revival elements of the Tudor and Georgian architecture styles.  This was particularly evident in the A-frame, wood-beam homes, stained glass windows and solid wood furniture.  It also saw the start of the use of pale greens and pinks on large surface areas in bathrooms, which eventually led to the green and pink bathtubs and toilets that still plague many older homes.
1940's
This decade saw the start and the end of the second World War, which made people reconsider the lavish lifestyles of the 1920's.  Old Art Deco furniture got recovered in muted, floral fabrics.  Nothing was very flashy and everything got repurposed.
This also started a trend of painting wooden furniture white, and kitting out colorful bathrooms and kitchens in flooring that will stand the test of time – linoleum.  Ironically, their muted floral soft furnishings and curtains were often ruffled and adorned with covered pelmet boxes – which is quite ornate by today's standards.
1950's
The aptly named Mid-Century Modern design style from the 50's is where we get today's Retro or Scandi movements from. Simple wood furniture, often veneers, with square designs and thin legs characterized this era and were famously placed alongside plastic furniture in clean, organic designs.  Two examples are the famous plastic Eames Chair, and the bentwood chair – recently spotted around just about every dining room table.  Liberal use was made of plastic, in solid pastel colours, in the form of melamine tables and chairs, and kitchen appliances.
1960's
Space travel, The Beatles, the Vietnam war, psychedelic drugs, the hippies who took them and the travels they undertook all came together in this famous decade.  It manifested in Op Art, floral wallpapers and rounded geometric shapes, in a whole mix bag of bright colours – yellow, aqua, tangerine and red.  Two of the most well-known décor elements from this era are shaggy rugs and bean bags – a furniture piece symbolic of a society that molds to the individual and not the other way around.
1970's
This is where those dated orange and brown hues settle into the design timeline.  Towards the middle of the decade, the Vietnam came to an end and a focus on luxury and technology was favored once more.  This time, however, it took less of an extravagant form than it did in the 1920's.
Comfortable, luxurious furniture in understated colours and designs filled sunken living rooms with wall-to-wall carpeted floors, surrounded by oversized windows that let the outside in.  Green house-plants were very popular and houses featured natural materials such as stone and wood paneled walls.
1980's
Here design split into two distinct styles.  On the one end, there were the neon colours and geometric designs influenced by Punk music.  On the other were high-society, feminine chintz couches and curtains in complimentary pastel and white floral designs.
1990's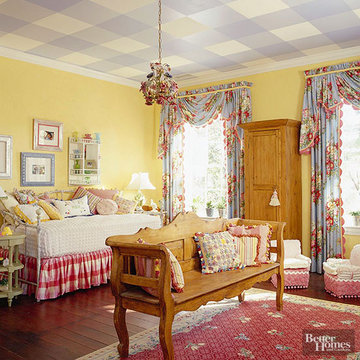 Source 
The fresh, fine florals of the 80's made way for bolder, more shabby-chic floral designs on couches and on walls.  It was also the start of the craft movement which continues today as home owners experimented with paint techniques and stencils on walls.  Furniture, however, was not painted, but rather stripped of the white paint from previous eras.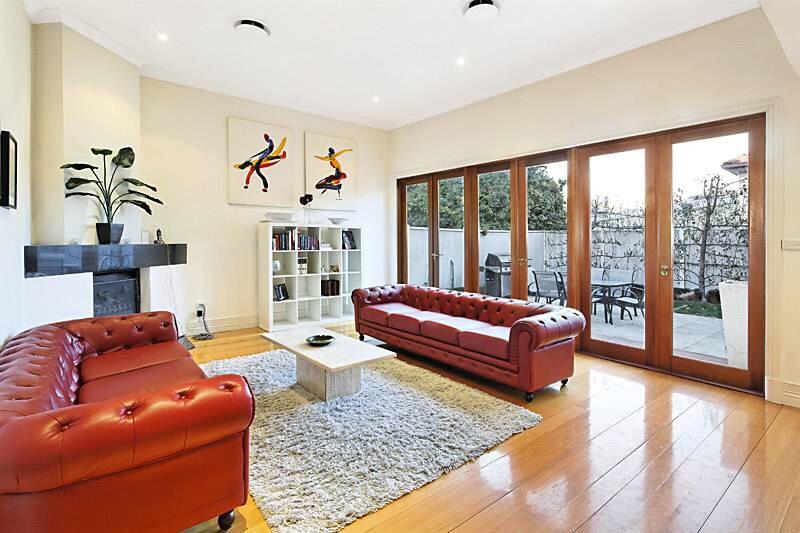 Another distinct style from this decade sported slick, modern furniture: L-shaped couches and living room suites with metal trims in black leather, white and off-white fur and velvets.  The glass top tables and high back upholstered dining room chairs that can still be found in many homes were also popular in this decade.
2000's
Although some of the design trends from this decade are still intertwined with our current trends, the 2000's had a much heavier sense about it.  Houses and interiors were greatly inspired by Tuscan and lodge type designs, which led to heavy wood furniture, brown and terra-cotta walls and dark granite kitchen tops.  There was a definitely move away from the clean, white appliances of the previous decade, to stainless steel ones.
Now take a look at your own home and see if you can spot elements from any of these decades.  In spite of our minimalist, neutral grey and white abodes, one would be hard pressed to find a design that was entirely new and not at least in part inspired by the last 90 years.
Have a story idea, comment or want to be a contributor? Connect with us at welcomemat@propertyguys.com today!
Author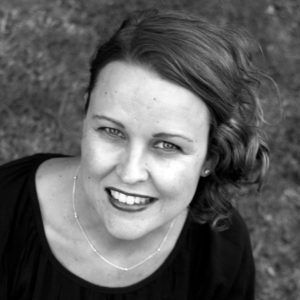 Germarie Bruwer
Germarie is a full-time blogger with an award-winning blog called Homeology.co.za, focusing on interior design, decor, trends and DIY. After a successful 16 year retail interior design career, with well-known brands like Laura Ashley, Fendi and Christian Dior, she left corporate design and became a pro blogger. She writes on all things interior from her studio at the back of an old farm house in the beautiful Franschhoek valley, where she lives with her husband and 3 boys.