Tucked away on the north end of South Pender Island and sharing a boundary with the environmentally-protected Southern Gulf Islands National Park Reserve is this stunning, sloped oceanfront property. Past the granite gateposts and decorative wrought iron gate one strolls down the 350 foot grassy driveway enjoying the spectacular views that welcome you to the peaceful Kingfisher Cove. The property features a west coast style cabin, a dock and deep water moorage, a gatehouse and more. This 3.5 acre, forested property is ripe with potential and life, including huge Douglas Fir and Arbutus trees, a mossy salal-covered upper slope and views of the the Pacific Ocean under the very special Gulf Island blue sky.  The nearby San Juan Islands, Mount Baker in the U.S, and the other Southern Gulf Islands provide additional amazing views from the top of Mount Norman, a 45 minute hike from the gate.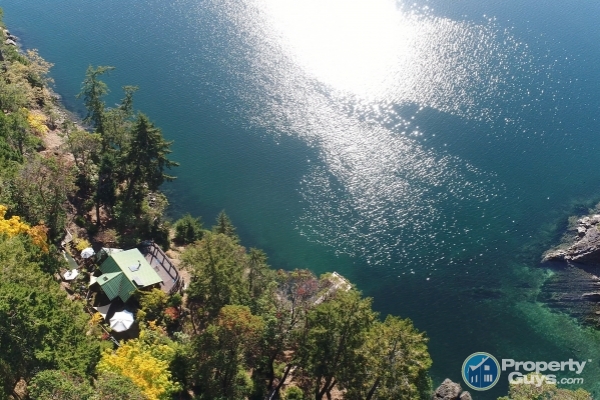 Visit the full listing here.
This property and the island as a whole are a birdwatcher's heaven with Hummingbirds, Eagles, Osprey, Kingfishers and many other seabirds as well as grouse and other ground nesters. The marine park environment hosts Seals, Porpoises, Otter, Orca, Mink, Deer and more. The night skies are of a 'best anywhere' variety. This much-loved property is only 5 minutes by boat from the popular destination Poet's Cove Resort & Spa and the first customs inside Canadian waters. The area boasts many popular attractions: Brooks Point Regional Park, the trail to Mt. Norman, and many other gorgeous natural features.

For property owners Mariette and Neville, the key factors in selecting this property (as first owners after Ainslie Point was subdivided) were the south/south-western exposure with heaps of sunshine, plentiful water, the development potential and best of all, the tremendous peace and privacy.  "We wanted something that had the potential to be quite self-sustaining and we didn't want to feel like we were in a subdivision and it needed to have lots of privacy and romantic appeal,"  explains Mariette. "The property is surrounded by a park, forested land, and has enough lumber to build a main house if you wanted to do the milling on site.  You can use branches that drop from the Arbutus trees to supply your firewood for the winter."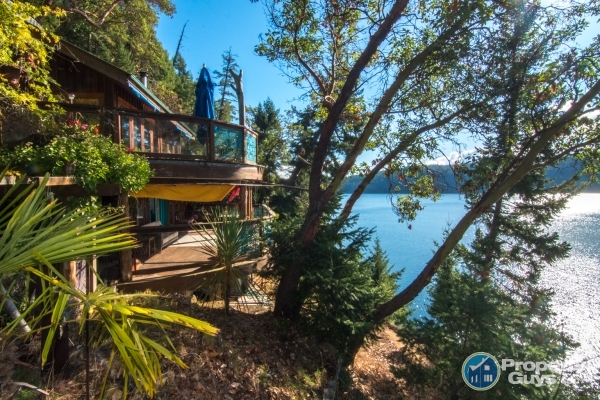 Visit the full listing here.
Neville and Mariette dream of a main residence that would be three or four tiers, each with its own private terrace and views, Neville has even sculpted a plan! This property would be perfect for an oceanfront Bed and Breakfast for those who have an entrepreneurial spirit.
The cottage on the Kingfisher Cove property is inspired by three principles: simplicity, sustainability and artistry. The custom cabin was largely inspired by anniversary trips to Yellow Point Lodge near Ladysmith on Vancouver Island, a destination that captured this couple's shared dreams and imagination. They were struck by the peace and the refreshing appeal of the waterfront and marine environment. "We decided we needed a 'Yellow Point Lodge' of our own," says Mariette with a smile.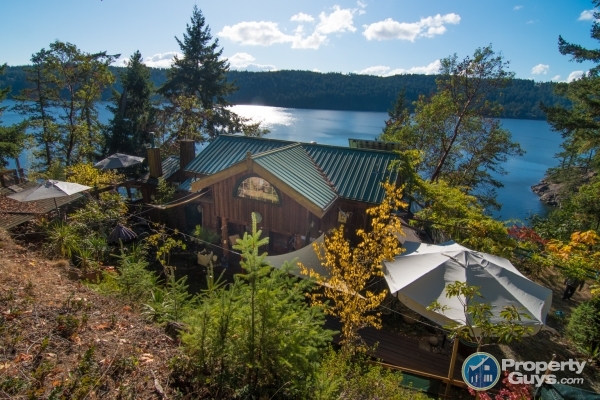 Visit the full listing here.
The dock and moorage were the first step in creating their retreat. With over 350 feet of ocean frontage, it made sense to take advantage of that luxury as soon as possible. "Initially we had just the dock and used a tent to camp on the property" explains Mariette. "We could catch rock crab right off the dock and Dungeness crab further out in the deeper waters of the harbour and easily launch our kayaks". The property now has a brand new yellow cedar dock, a steel ramp, and a two-tiered deck right at the waterfront. Other amenities such as a ladder or hydraulic lift or deck could be easily added to facilitate faster access to the beach in the little cove. There are also beaches inside the marine park and at nearby Mortimer Spit.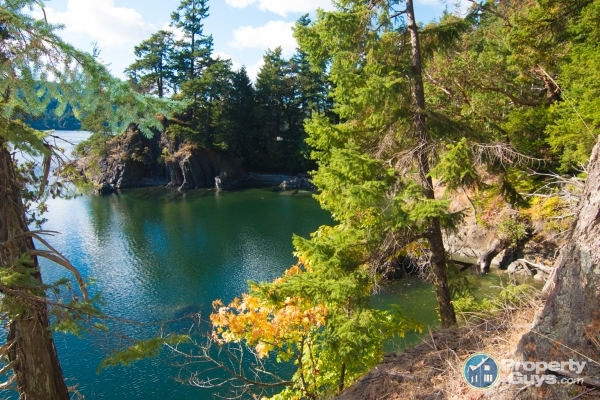 Visit the full listing here.
While the property had tons of potential uses, Mariette and Nev opted to keep it simple for their purposes. "Because we were building a cabin, we didn't want to build on any of the property's several other potential sites nor on the main building site"  she notes. "There is lots of terrain above the road, so you can get even better views if you build higher up on the property." The sloped land lends itself best to a terraced style home which would allow for a variety of views while maintaining maximum privacy.  Mariette and Neville have travelled the globe and say the most beautiful homes they have ever seen are on similar slopes by the sea.
The soil would also be suitable for a vineyard much like the recently sold Saturna Island Winery.
Kingfisher Cove now boasts a mature garden that includes apple trees, fig trees, Yucca and other palms, a grapevine and a stunning Wisteria that shades the side of cabin and drapes over both levels of deck.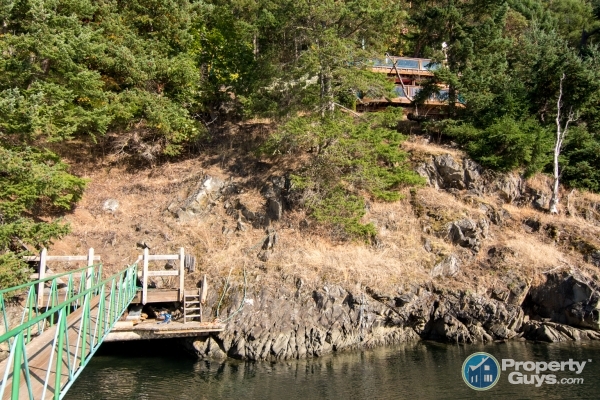 Visit the full listing here.
Building the cabin was a creative process starting with the design which involved and a lot of detail at every step. Mariette and Neville knew what they wanted and sought out the right people to help them realize their vision and actively participated during every day of construction. The upper loft/ bedroom has berber wool carpeting, a vaulted ceiling, a skylight that opens, tongue & groove cedar and a lovely half-moon window above the bed. In the bathroom, the huge shower is room size and framed by wavy glass blocks from Germany, with an awning window looking out to the sea. The rest of the room has emerald green Brasilian tiles and tongue and groove cedar and again mosaic granite and marble floors.
Visit the full listing here.
The main living areas have Oak flooring / ship's planking with walnut inserts and expansive windows ensuring that no view of garden, forest or sea goes to waste. They were inspired by the property itself, using some fir trees from the land and enlisting the help of local experts like Prestige Joinery  in Victoria for the custom designed millwork windows which are framed in kiln-dried fir. Advantage Lumber in California provided the teak for reflooring of the upper deck more recently. Offcuts of granite and marble were used to create the hearth around the wood stove in front of the windows on the main floor, one of the property's unique features.

"We realize it's unusual to have a wood stove in front of the windows, as they're typically against a solid wall but we thought it would be wonderful to look out to the sea while watching the fire at the same time" says Mariette who adds that fall and winter are her favourite times at Kingfisher Cove. "The Southern Gulf Islands get much less rain than Vancouver, only about 17% of what they get, so this means we have a microclimate that is very special, more like a little piece on California in BC".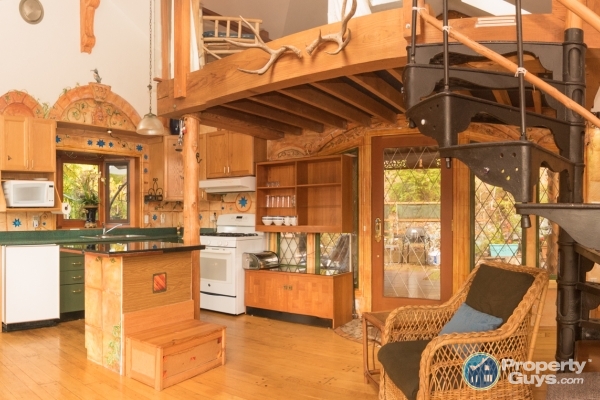 Visit the full listing here.
Other parts of the construction included the concrete foundation, the walkout decks at both levels with inserts of powder-coated cast aluminium lattice and glass panels in the cedar railings. The lower level's deck includes a 130-year-old heavy solid iron, double-ended soaker tub that holds heat exceptionally well, allowing for year round al fresco bathing.  "Just turn the hot water on and when the tub is full it will be the right temperature in mid-winter" says Neville who is given credit for most of the design and artistry that prevails nearly every inch of the cabin and garden.
The cottage was designed to be very indoor-outdoor oriented, but ended but being more deck than house, making the most of the incredible setting. The top deck alone offers 800 square feet and the lower deck is similarly sized and protected by the upper decked allowing for outdoor space on rainy days. The upper deck was redone in 2014 with Brazilian teak and the deck railings are cedar, with glass panels interspersed with turquoise, powder-coated cast aluminum lattice panels in a pattern called 'Stoneleigh' from Brisbane Lace and Gates, adding some Australian flare that fits well with the many Arbutus trees which look and feel much like Australian eucalyptus trees.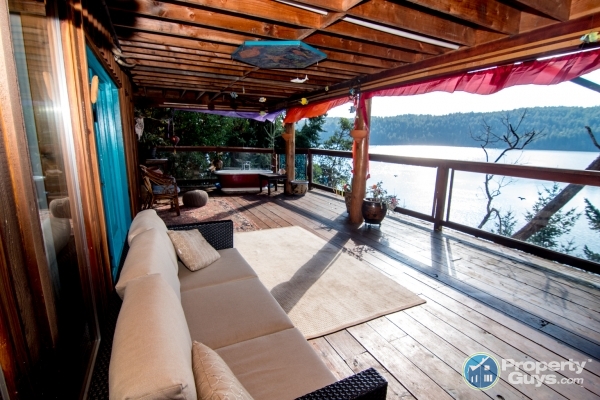 Visit the full listing here.
The property can be easily accessed from Vancouver via BC Ferries at Tsawwassen or from Edmonton, Calgary and Regina via the Victoria Airport, YYJ  at Sidney on Vancouver Island, which means an only 5 minute drive to the Swartz Bay terminal of BC Ferries and then a 40 minute ferry trip to Otter Bay on Pender Island. One could also take a floatplane from Vancouver, Victoria or Seattle; or a ferry from Anacortes near Bellingham in Washington State, making the trip much shorter for those arriving from Seattle, Portland and San Francisco. The commute is a mere 15 to 20 minutes when travelling by floatplane with Harbour Air or Seair from downtown Vancouver, from Richmond, or from Victoria and only a bit longer from Seattle.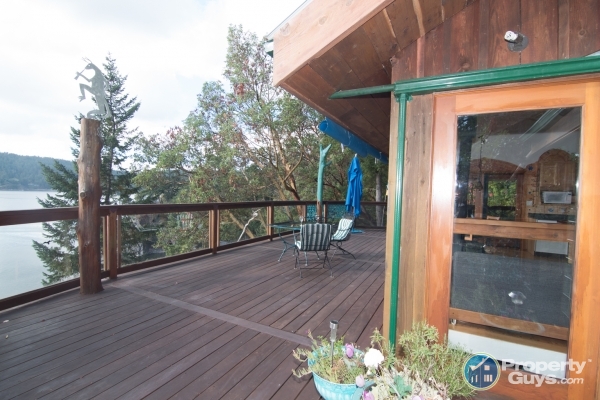 Visit the full listing here.
The Mediterranean climate and the beauty of the Salish Seas have made both North and South Pender Island (or "The Penders" as they're known by locals) a popular getaway destination.  The Pender Islands are popular with boaters, hikers, golfers  and nature enthusiasts in particular and has a rich history, sheltered beaches and an abundance of amenities.  It may be easy to see the Penders as an island amidst islands but its standout features include two freshwater lakes, three public docks and more anchorages tucked into the shores than any of the surrounding islands.   With about 2,250 permanent residents and a larger seasonal population, the island has plenty to offer year-round. The island has a medical clinic, elementary school, a wonderful farmer's market, a great bakery, gift shops, pubs and cafés and a warm community where sharing is the norm. "It's a close-knit community," says Mariette. "We have an honour system with vegetable and fruit stands, car stops for rides and more – a German couple who stayed on the island for 3-4 months at Kingfisher Cove were loaned a car for the duration of their stay after being picked up at one of those car stops."
Visit the full listing here.
The island's many natural amenities and a vast array of community events ensure that there is always something to do. Kingfisher Cove is located at the north end of South Pender Island within easy distance of the Driftwood Centre, which is the central location for must-haves such as groceries, baked goods, lunch options, gas and more. Kingfisher Cove itself has received rave reviews as an idyllic location for honeymooners and romantic getaways: the privacy, breathtaking views, amazing sunsets and night skies and abundant amenities ensure that there is always a new opportunity to indulge in something different.  
The property's easy access to water allows for kayaking, sailing, boating.  The island is well located for on a main route for the resident Orcas so whale watching, especially from Brooks Point,  is a much loved activity as is hiking, walking on the beaches, hiking the local peaks, visiting artists' studios and there is even a world championship disc golf course.  Scuba diving is also very good in many spots. Some islanders and seasonal visitors opt to take advantage of convenient attractions like Pender Island Kayak Adventures. A mere 45 minute hike up nearby Mount Norman offers breathtaking views towards the city of Vancouver as well as views of the San Juan Islands, the other southern Gulf Islands such as nearby Saltspring Island, the snowy peaks of the Olympic Peninsula and southern portions of Vancouver Island.  Mariette and Neville say Saltspring has traffic jams when compared to Pender Island, which has retained more of a rural charm and its feeling of remote accessibility.
While nothing but an in-person viewing can truly do this gorgeous property justice, if you'd like to take a peek at what it has to offer, take a look at the drone footage here.  If you'd like to look into buying this stunning property, you can visit the full listing here.
Have a story idea, comment or want to be a contributor? Connect with us at welcomemat@propertyguys.com today!
Author:
Amy Hurlburt
Amy is a communications associate for PropertyGuys.com Durham Region and contributor for Welcome Mat.