By Maria Brito
In recent years, the real estate industry has undergone a significant transformation, driven by the integration of technology into various aspects of the business. One of the most remarkable advancements is the utilization of virtual reality (VR) and augmented reality (AR) to revolutionize the way properties are viewed and experienced. This technological shift has not only streamlined the property buying process but has also offered a unique and immersive way for potential buyers to explore properties from the comfort of their homes.
Traditionally, property viewings required prospective buyers to physically visit properties, often involving a considerable investment of time and effort. With the advent of VR and AR technologies, this process has been reimagined, offering a range of benefits for both buyers and real estate professionals.
Immersive Virtual Property Tours
VR technology enables the creation of immersive virtual property tours that provide potential buyers with a lifelike experience of walking through a property without setting foot on the premises. Through VR headsets or even just a web browser, users can navigate through different rooms, explore layouts, and get a realistic sense of the space's dimensions. High-resolution 3D visuals and interactive elements enhance the feeling of being physically present, allowing buyers to make more informed decisions about which properties to visit in person.
Time and Resource Savings
Virtual property tours are a game-changer for buyers who may be located far from the property's location or have limited time for physical visits. This technology eliminates the need for extensive travel and allows buyers to narrow down their choices efficiently. Additionally, real estate agents can save time by focusing on serious buyers who have already virtually toured the property and expressed genuine interest.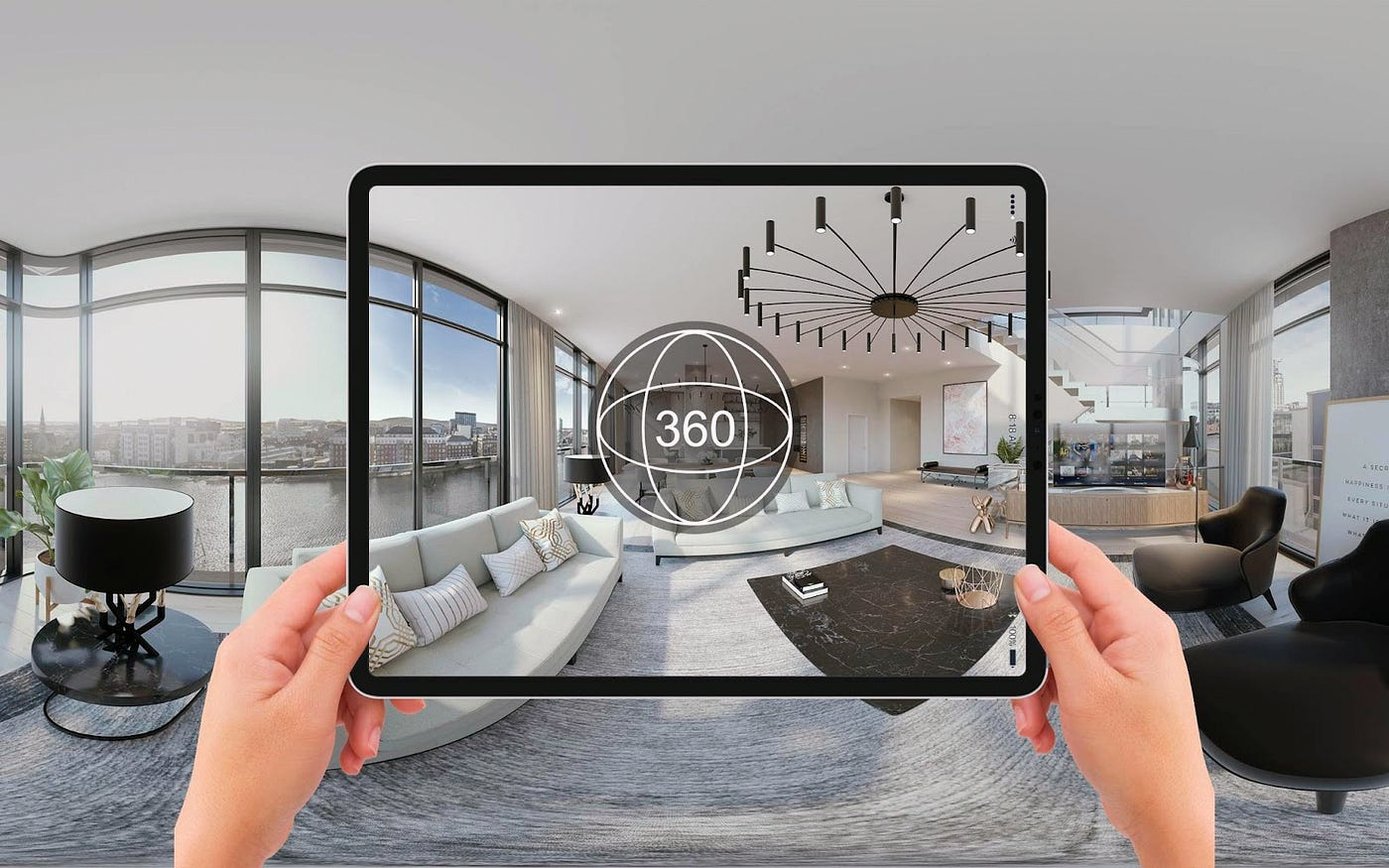 Reducing Uncertainty
Property photos can sometimes be misleading or fail to capture the true essence of a space. VR tours provide an accurate representation of the property's layout, helping buyers better understand the flow and functionality of the space. This reduces uncertainty and minimizes the risk of disappointment when visiting properties in person.
Enhancing the Selling Process
Real estate agents and developers can leverage VR technology to showcase properties more effectively. Marketing materials can include virtual tours, giving potential buyers a more engaging experience and increasing the chances of inquiries and offers. Moreover, properties that are still under construction can be showcased through VR, allowing buyers to visualize the finished product and make purchasing decisions before completion.
As the technology continues to evolve, the cost of creating VR property tours is expected to decrease, making it more accessible to a wider range of real estate professionals. However, challenges such as ensuring a seamless user experience and addressing technical issues remain areas of focus for industry players.
In conclusion, virtual reality is transforming the real estate industry by offering immersive and convenient property viewing experiences. This technology has not only simplified the property buying process but has also provided a glimpse into the future of real estate transactions. As VR technology becomes more sophisticated and widely adopted, it is likely to reshape how properties are marketed, viewed, and ultimately sold in the years to come.
About PropertyGuys.com: PropertyGuys.com Inc. is a private sale franchise network and marketplace. Each PropertyGuys.com franchise is independently owned and operated (collectively "Us" or "We"). We represent neither the buyer nor the seller and we are not licensed to trade in real estate. We neither warranty nor make any representations as to the outcome of a property sale and we do not warrant or guarantee the services provided by third parties. © 2023 PropertyGuys.com Inc., All Rights Reserved. Legal Disclaimer: The subject matter developed within this article is only intended to provide general information and is for general informational purposes only. The contents do not constitute advice, are not intended to be a substitute for professional advice, and should not be relied upon as such. You should always seek legal advice or other professional advice in relation to any legal or financial decisions that you intend on making.