We were surprised at the amount of pianos that are given away through online classified ads! Because of their weight and grandeur, many people just want them gone and post their old pianos as "free for the taking" to anyone who will come and put in the time (and muscle) to pick them up!
If you're up for the challenge, here are seven creative ways you can take advantage of another's trash and turn it into treasure.
1. Planter/Garden Fountain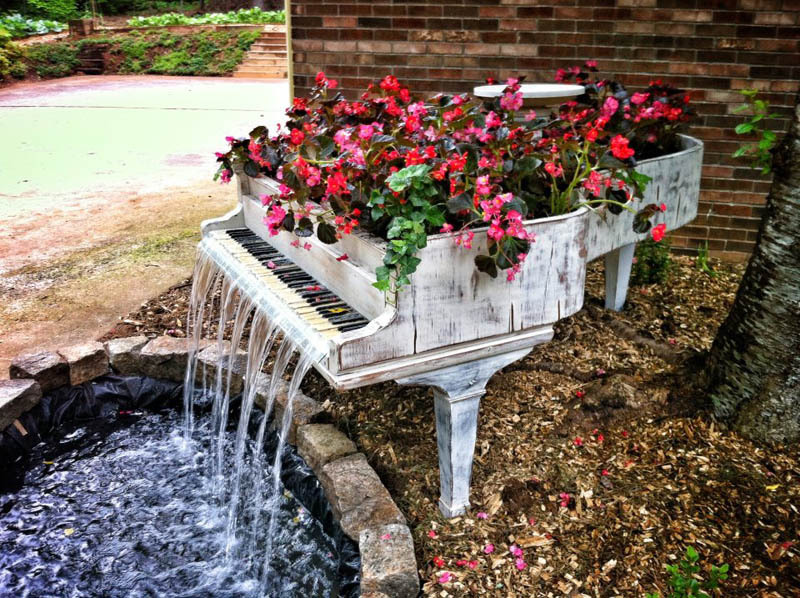 Built and designed by Bill Metzgar
Listen to the beautiful sound of water rushing from this landscaping statement piece! It's not only a fountain, but also doubles as a stunning planter – sure to add drama to any backyard.
2. Vintage Headboard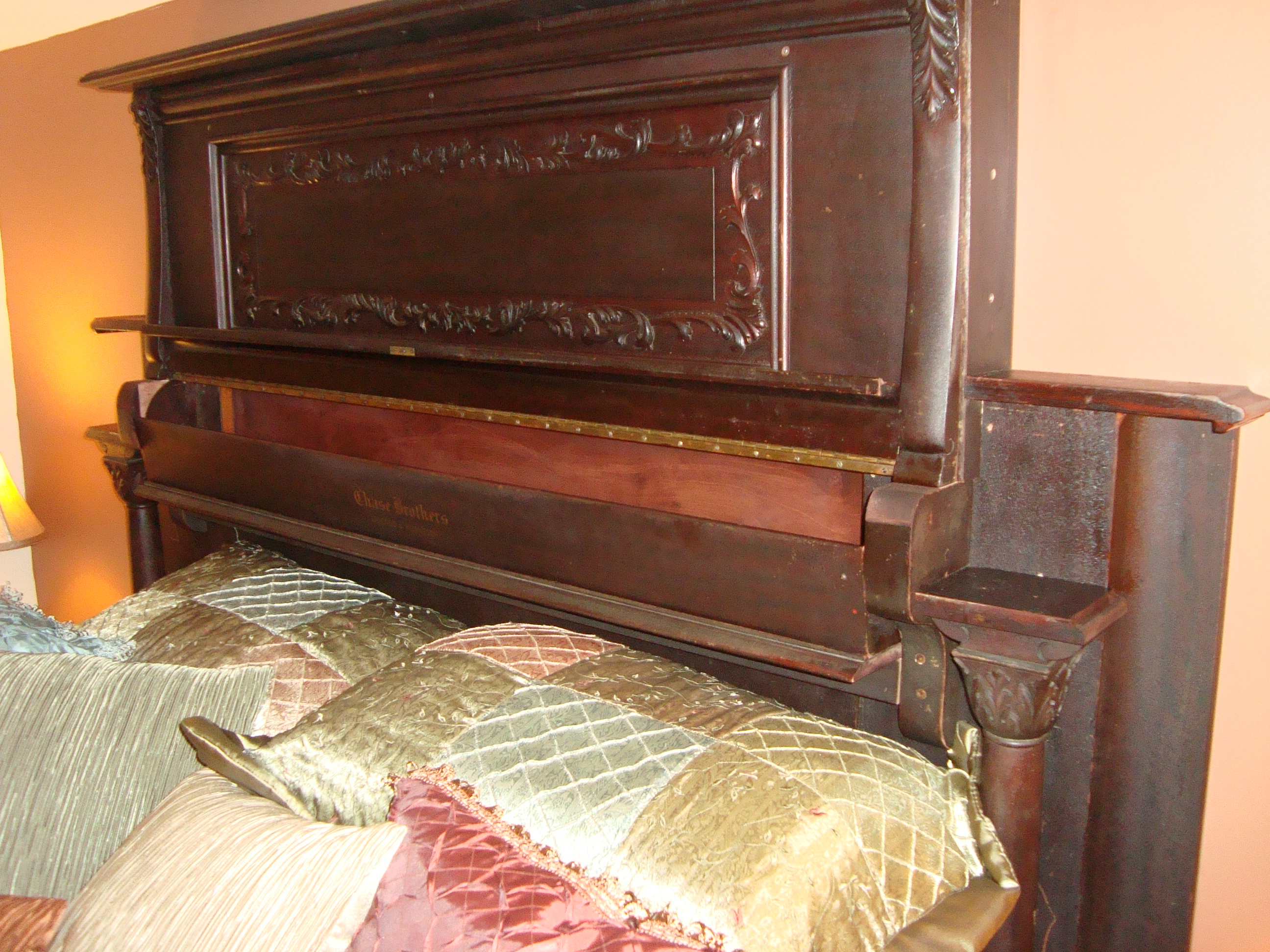 Photo credit: Jay Helland. Source 
We're always looking for cool DIY headboard ideas. A funky headboard can be the focal point of a bedroom, and all the better if it doesn't cost a fortune! Why not try something like this original piano to frame your bed with character?
3. Shelf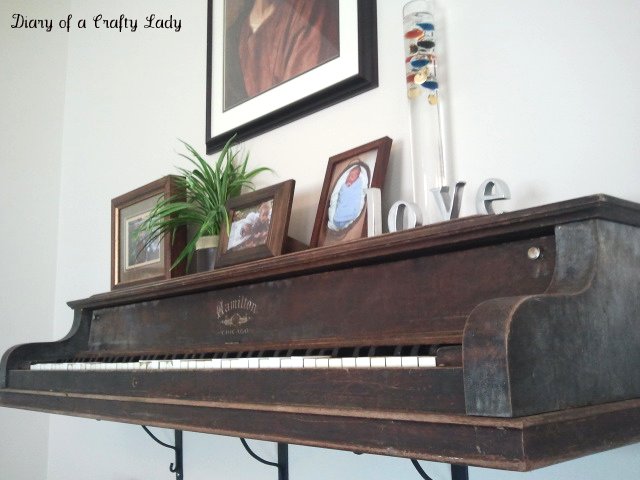 Speaking of adding character, how charming is this shelf? Extra points for keeping the keys intact in this stylish and practical use of an old piano.
4.Wall Art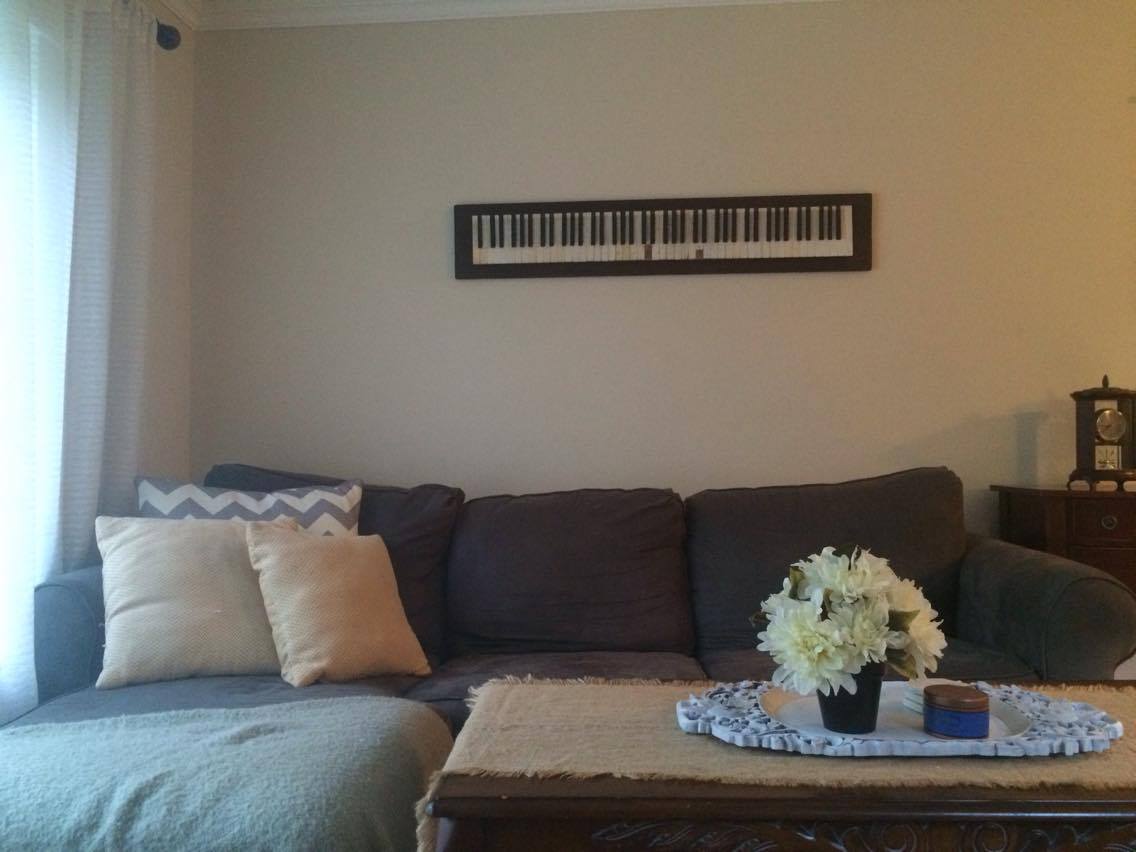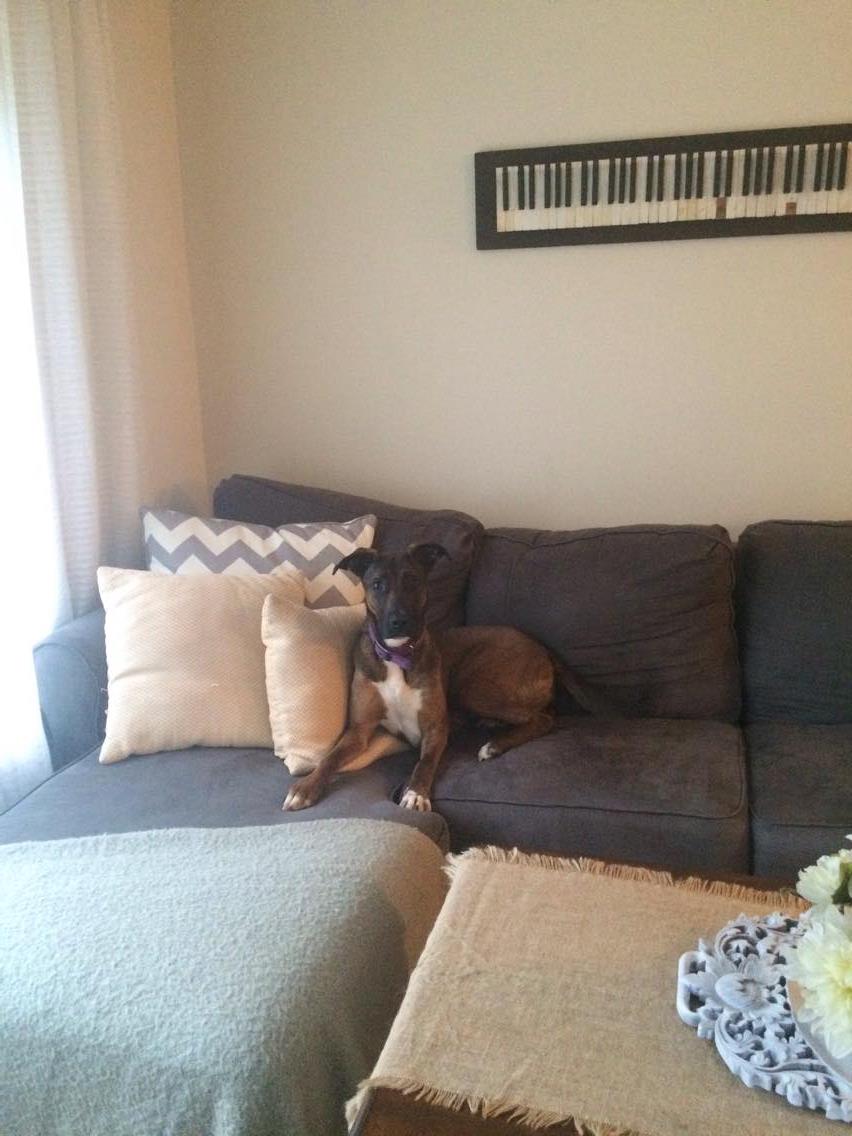 Stella (above) approves of the wall art too!
Photo credit: M. Barnett
Friends of Welcome Mat, Mike and Megan Barnett, submitted this piece for our list. Isolating the piano keys and adding a stained wood backdrop, they display this project proudly in their living room.
5. Funky Desk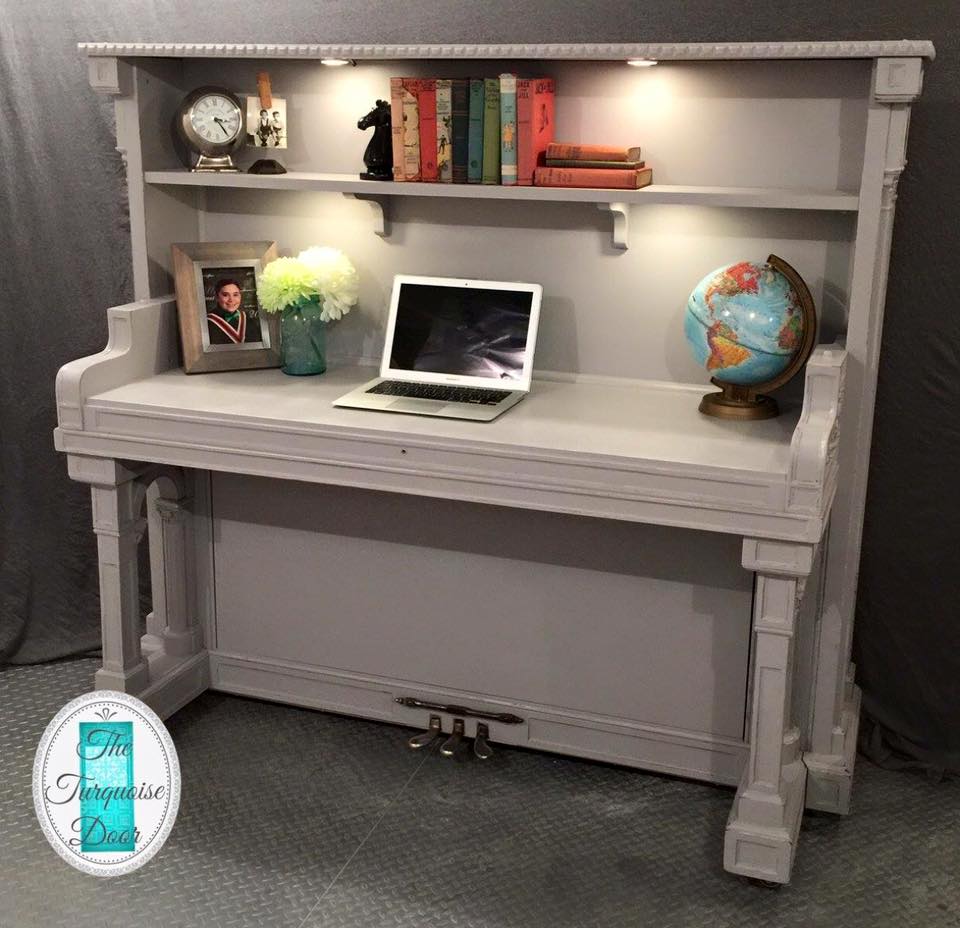 Looking for the perfect unique desk to complete your home office? Look no further than an old piano! As the above photo from Turquoise Door shows, this piano is both the perfect size to convert to a desk and has a lot of space for other essentials like flowers, photos and even a bookshelf. With a little paint and a lot of elbow grease, you could be on your way to stylish productivity.
6. Book Shelf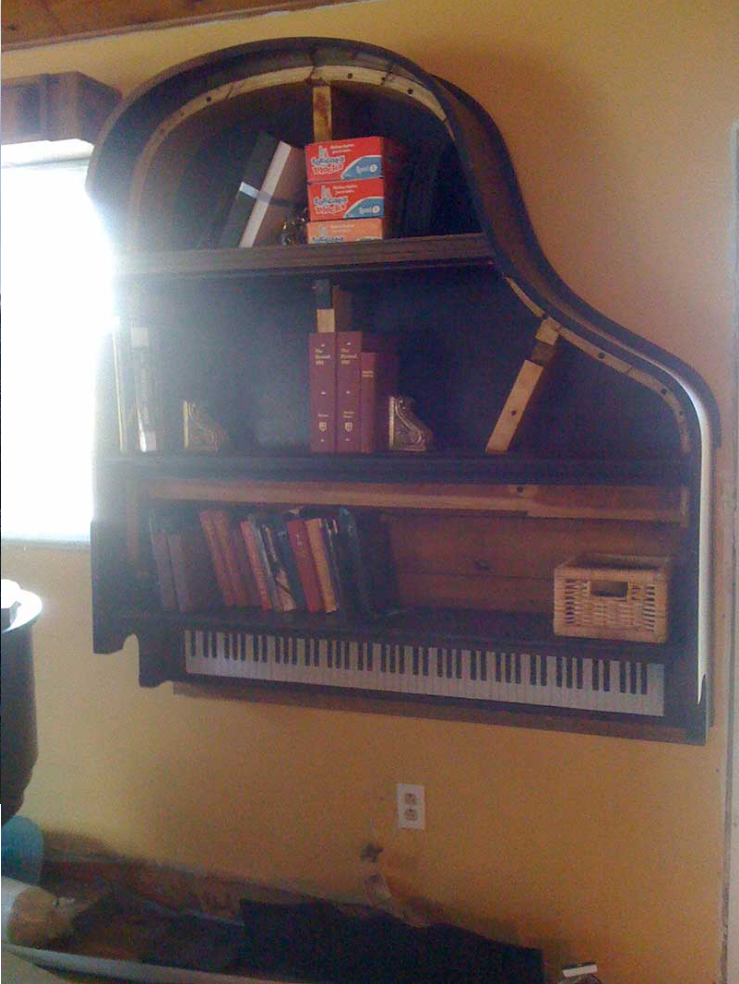 Thanks to Instructables, you can get the blueprint to build your own piano bookcase for free! Grand pianos aren't as common on buy and sell sites, so getting your hands on one to deconstruct might take some digging. You will also need quite a bit of wall space for this bookcase, as even baby and petite grand pianos are over 4 feet wide.
7. Piano Bar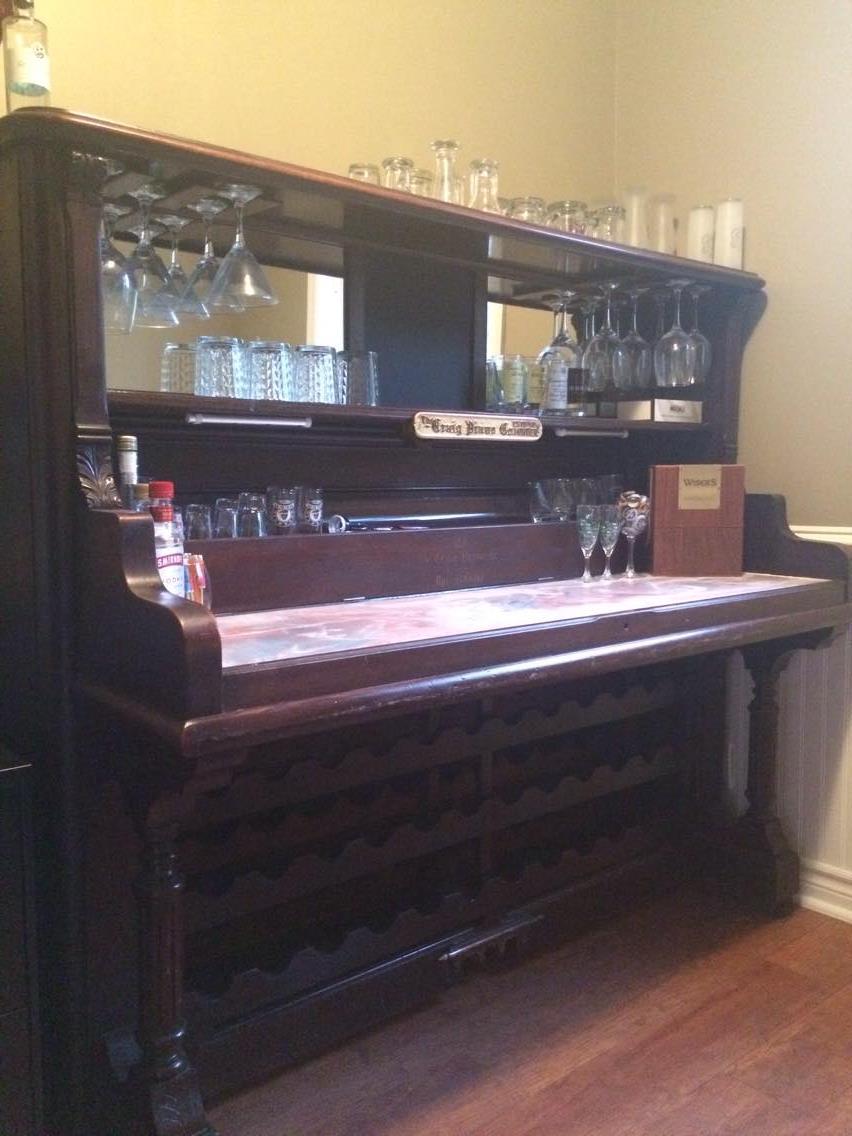 Photo credit: M. Barnett
We saved the best (and arguably most time/labor intensive) piece for last – the piano bar… literally! Fully equipped with a large wine rack on the bottom, hand crafted epoxy countertop, wine glass rack and mirrored backsplash, this conversation starter is a one of a kind piece. Create your own piano bar as the place where everyone gathers in your home!
Bonus – add some paint to refresh your old piano as a statement piece for any room like this brilliant yellow number!
Have a story idea, comment or want to be a contributor? Connect with us at welcomemat@propertyguys.com today!
---
Author
Ashly Bickford
Ashly is the Managing Editor for Welcome Mat. She is based out of Moncton, New Brunswick, Canada.