These days, the kitchen is far more than just a place to cook food. It's a social space where family and friends gather to talk, a technological oasis where kids and parents use their laptops, smartphones and tablets. With the careful selection of colours, materials, textures and appliances, a kitchen is also an artistic statement which reflects the personalities of the homeowners.
So what's in store for the rest of 2016?  What's in?  What's out?  And what deserves a closer look?  Let's find out….
Integrated Spaces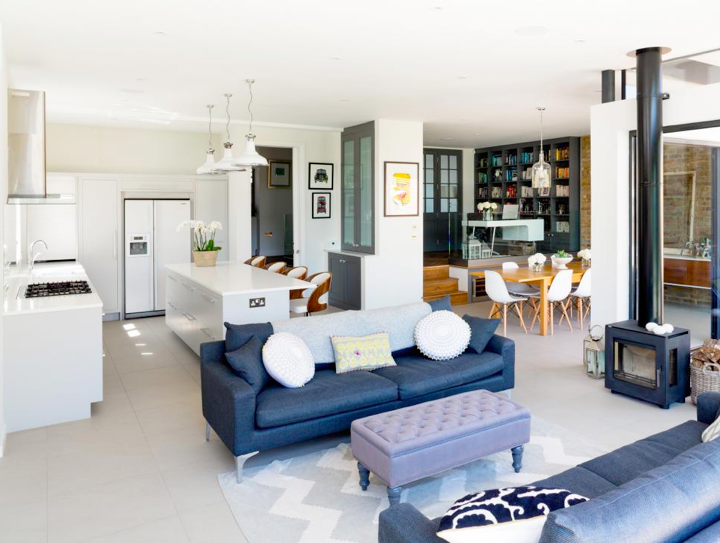 Image Credit:  Robert Wilson, Granit Chartered Architects; Photo by Andy Beasley
With the growing popularity of open-concept design, the kitchen is no longer considered an isolated part of most homes (even if it does contain an island).  Rather, homeowners are fusing kitchens with living rooms and dining rooms, breaking down walls to free up their sense of space while adding greater flow and continuity between areas.
But this also poses a problem; by merging traditionally distinct spaces of a home into unbroken expanses, it's harder to find materials, colours and furniture which blend across such distances.
Tone Deaf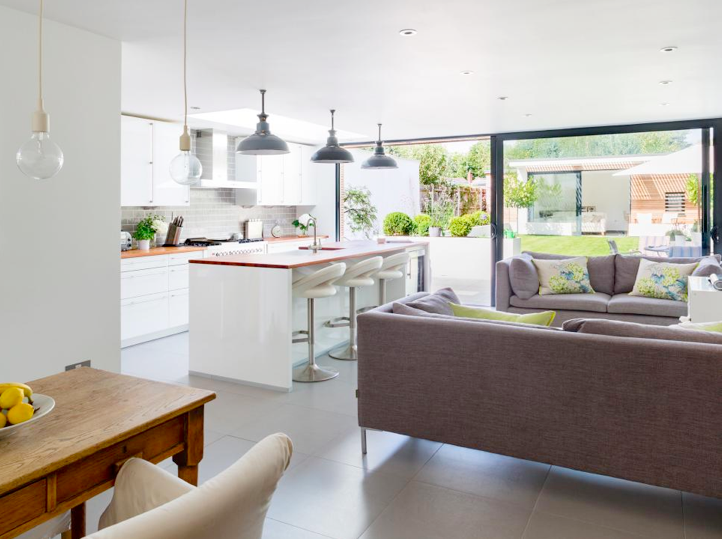 Image Credit:  Robert Wilson, Granit Chartered Architects; Photo by Andy Beasley
One way homeowners can add unity and cohesion to integrated spaces is through neutral colours. Gray, white and beige lend consistency to a home, allowing the various elements to synthesize smoothly.
But that doesn't mean we can't add some brightness to our homes.  In fact, in today's kitchen, there's plenty of room for colour but it usually takes the form of vivid accents for cabinets, back-splashes and floral displays.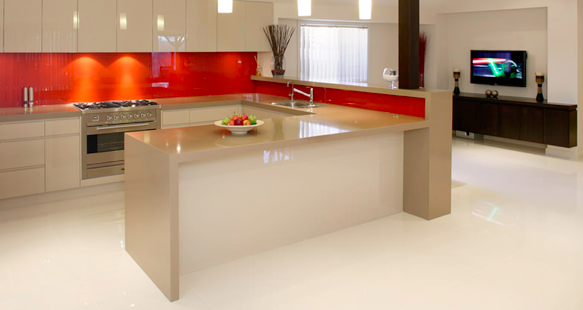 Image Credit: caesarstone.ca
"The main advantage of this trend," states caesarstone.ca, a global manufacturer of kitchen surfaces, "is that the accessories can be easily replaced and the kitchen 'reinvented,' (at a relatively low cost compared to replacing more permanent elements of the kitchen)."
So not only do muted palettes unify different portions of a home, but they work perfectly with the more colourful segments of your kitchen.  Bright accents are also a great way to save money: after all, a little dash of paint is far more affordable than a complete makeover.   
Thin Is In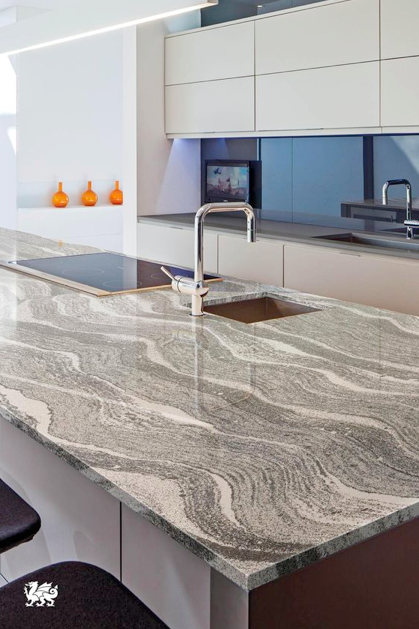 Image Credit: Cambria
Modern, minimalist and elegant, slender countertops fashioned from quartz and marked with colourful patterns are trending in 2016.
They look amazing, add flow, and make your kitchen appear less cluttered.
Furthermore, these lean countertops combine the openness of our first example with the colourful aesthetics of the second.
Au Naturel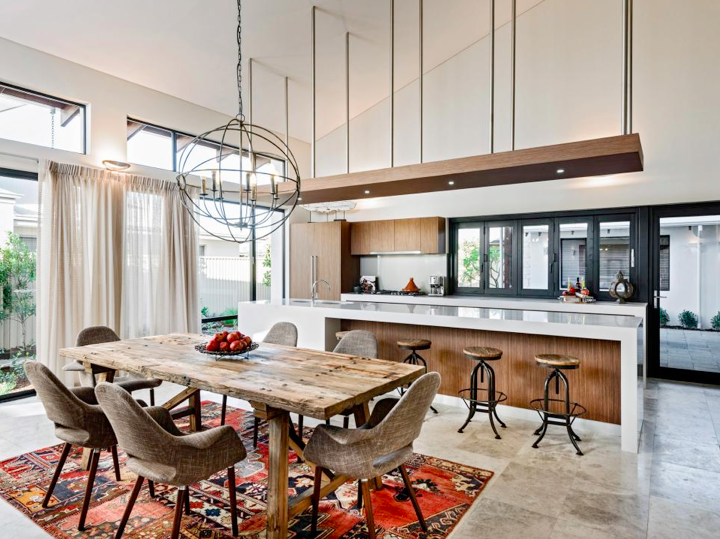 Image Credit: Jodie Cooper, Jodie Cooper Design; Photo by D-Max Photographers
Natural materials have always been popular for their timeless look, but the difference is they now play a secondary role: to provide contrast.
According to Canadian Home Trends, Fall 2016 will see a surge in contrasting materials.  The magazine describes it as "A refreshing respite from the days of all things matchy-matchy," advocating such bold design choices as "a burled walnut island in an otherwise modern kitchen."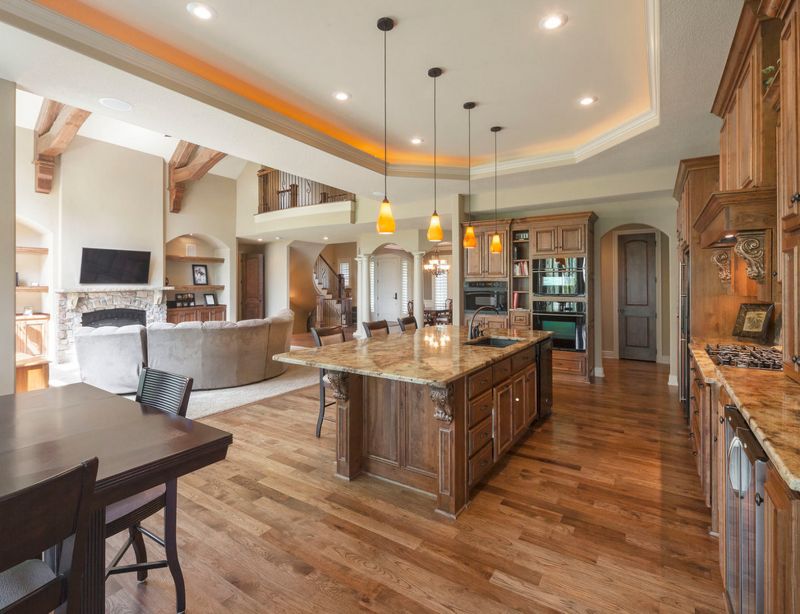 Image Credit:  Starr Homes
Organic materials can also be used to unify rather than separate.  "Designing kitchens that effortlessly incorporate natural materials such as wood, stone and bamboo is a trend that's not going away anytime soon," says Improvenet.com.  "Integrating textures in your kitchen scheme is also going to be popular."
Whether it's integration or separation, natural materials will play a major role in 2016 and beyond.
This Time It's Personal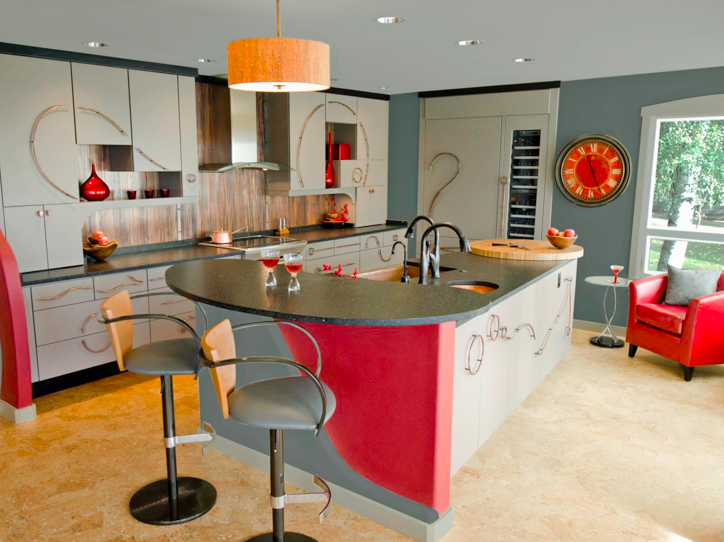 Image Credit: Rhonda Knoche Design
Another consequence of open-concept design is that the kitchen is now an extension of the rest of your home, meaning it can be personalized in several ways.  Add some colourful accessories, portraits, artwork, even a comfy sofa.  The goal is to make it uniquely you, so have fun and experiment.
And whether it's pendant lamps made of steel or a glass back-splash, these two materials have been hugely popular in 2016 and can be used for a variety of decorative touches.    
Tomorrow's Kitchen, Today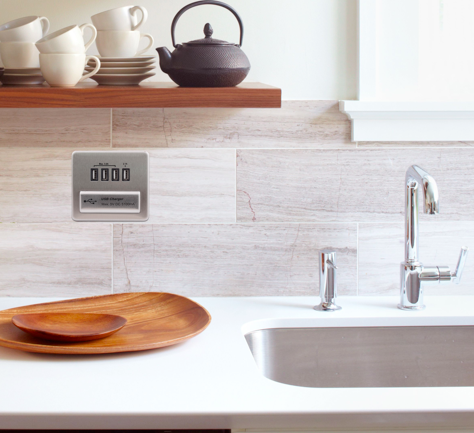 Image Credit:  Seeswitches.co.uk
Perhaps the biggest trend in modern kitchen design is the inclusion of technology.  Beyond the usual stoves and refrigerators, smart devices are now working their way into an area of our home that has typically been slow to change.
Since families are now using kitchens as a hub for many of their devices, homeowners are incorporating tech-friendly architecture into their designs.  According to Canadian company Home Inc, the  number one item most consumers want for their kitchens is a hands-free faucet, which can save both money and water.  In fact, a 2013 study by Nova Scotia's Dalhousie University reveals that automatic faucets can save up to 70% water.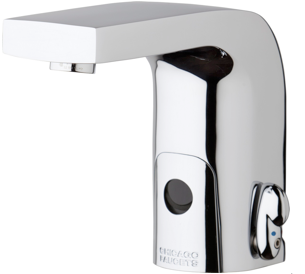 Image Credit: Chicagofaucets.com
Other kitchen innovations include:
–  Countertops with wireless charging stations
–  An instant food safety checker that detects chemicals, antibiotics and pesticides
–   A touch-screen stove top by Whirlpool
–  A Wi-Fi enabled refrigerator by Samsung
–  The ability to text and chat with your smart appliances using LG's HomeChat
–  A robotic cooking arm named Cooki, which stirs, mixes and cooks your food
And these are just some of the many amazing inventions that await homeowners.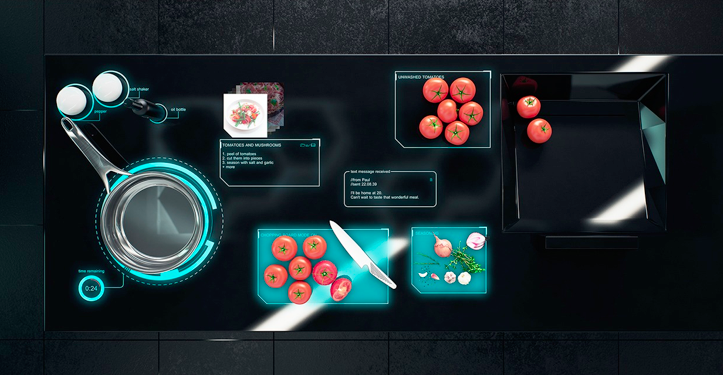 Image Credit: home-designing.com
Everything we've seen proves that the kitchen is no longer simply a place for cooking and nothing more. It's undergoing a rapid transformation, becoming a social nerve centre, a hub of technology, and an expression of personality and artistic freedom.
Have a story idea, comment or want to be a contributor? Connect with us at welcomemat@propertyguys.com today!
Author:
H.K Patel
H.K. Patel is a freelance writer from Mississauga, Ontario.