Almost everyone seems to think tiny houses are cute, but are they sensible? That question seems to be rather polarizing; a Houzz.com poll showed that 52 percent of respondents love the idea of downsizing their home, while 44 percent think that losing space would be a no-go (another four percent had other responses ranging from "Small yes, tiny no!" to "I like the IDEA, but not the reality").
The Tiny Life, defines these unconventional dwellings as structures "between 100 and 400 square feet," and they "come in all shapes, sizes, and forms." Tiny Houses have become a pop-culture movement and are the topic of several films such as Tiny: A Story About Living Small and Small Is Beautiful: A Tiny House Documentary. There are even entire shows dedicated to the trend: FYI's Tiny House Nation and HGTV's Tiny House Hunters.
Having a tiny house means that maximizing the limited space that you have is extremely important. The home owners have to be very crafty when it comes to utilizing and maximizing the living space. Unlike most conventional houses, many features of the home need to be tucked away until they're needed or simply be much more space conscious than if they were in a typical house.
Here are some of the most interesting tiny house features that make the most out of small spaces.
Compact, Compact, Compact
A toilet…in the kitchen? Naturally, everything in a tiny house has to be more compact. Your jumbo fridge would likely have to be traded for a mini version, and you probably wouldn't be able to stretch out in a giant Whirlpool bathtub anymore, but these changes don't have to be "sacrifices." Just take a look at this stylish tiny house kitchen!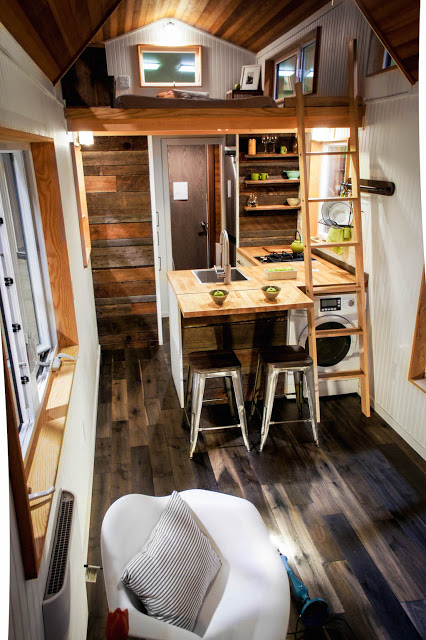 Hidden TV
A television is an amenity that few can go without, but there isn't much wall space in a tiny house for even a 32" flat-screen. Solution: hide the TV. One of the best ways of doing this is constructing a coffee table with a fold-up top and attaching a television to the inside of the top. Sitting in your tiny house living room, all you'd have to do to catch an episode of Tiny House Nation is fold open the top of your coffee table!
Outdoor/Indoor Continuity
There is a genius way of increasing the size of a tiny house without actually increasing its size – take advantage of outdoor space! A large glass sliding door or a full-wall accordion door can make the deck area feel like part of the home. When an entire wall "disappears," you create a seamless transition from inside to outside.
Rooftop deck
Need even more space? An often-wasted part of a house is the roof. A tiny house's roof can serve as a deck, a large bonus space to use!
Nifty Stair Cubbies
A great way to make more room is to install drawers, cubbies or cabinets beneath a set of stairs. Take a look at this picture and think of all the things you could fit in those cubbies!
The Classic Loft Bed
One of the classic tiny house design tricks to maximize space is to make a loft bedroom. The inclusion of a loft bed is almost taken for granted in tiny houses; it is the perfect way to make the most of a small space.
Pro tip: A skylight above the loft bed can make for a beautiful nighttime view of the stars.
Proponents of the tiny house movement have devised some ingenious solutions to problems that arise with less space. That said, many people still can't picture themselves living with under 400 square feet of space. What do you think? Is a tiny house right for you?
Have a story idea, comment or want to be a contributor? Connect with us at welcomemat@propertyguys.com today!
---
Author:
Matthew McLaughlin
Matthew is a contributor for Welcome Mat. He is based out of Moncton, New Brunswick, Canada.