On the East Coast of Canada lies a hidden gem – an island with a tiny population and some of the best golfing destinations in the country (dare I say North America).
No, I'm not talking about Prince Edward Island, I'm speaking of the majestic Cape Breton Island. For those unfamiliar, Cape Breton is a large island (roughly the size of the Bahamas) that makes up the northern tip of Nova Scotia. It's home to some panoramic scenery along its vast coastlines, including stunning oceanside cliffs, breathtaking views and some of Canada's top golf courses.
Canadian Golf Magazine placed three Cape Breton Golf courses into the top five of their Top 50 Golf Courses in Canada list. Cabot Links, Cabot Cliffs and Highland Links came in at 1, 2 and 5 respectively on that list. The Lakes Golf Club also received an honorable mention.
However, accolades are nothing new for these three courses, as they've been described as some of the best in North America by the likes of Score Golf, the Wall Street Journal and Golf Digest.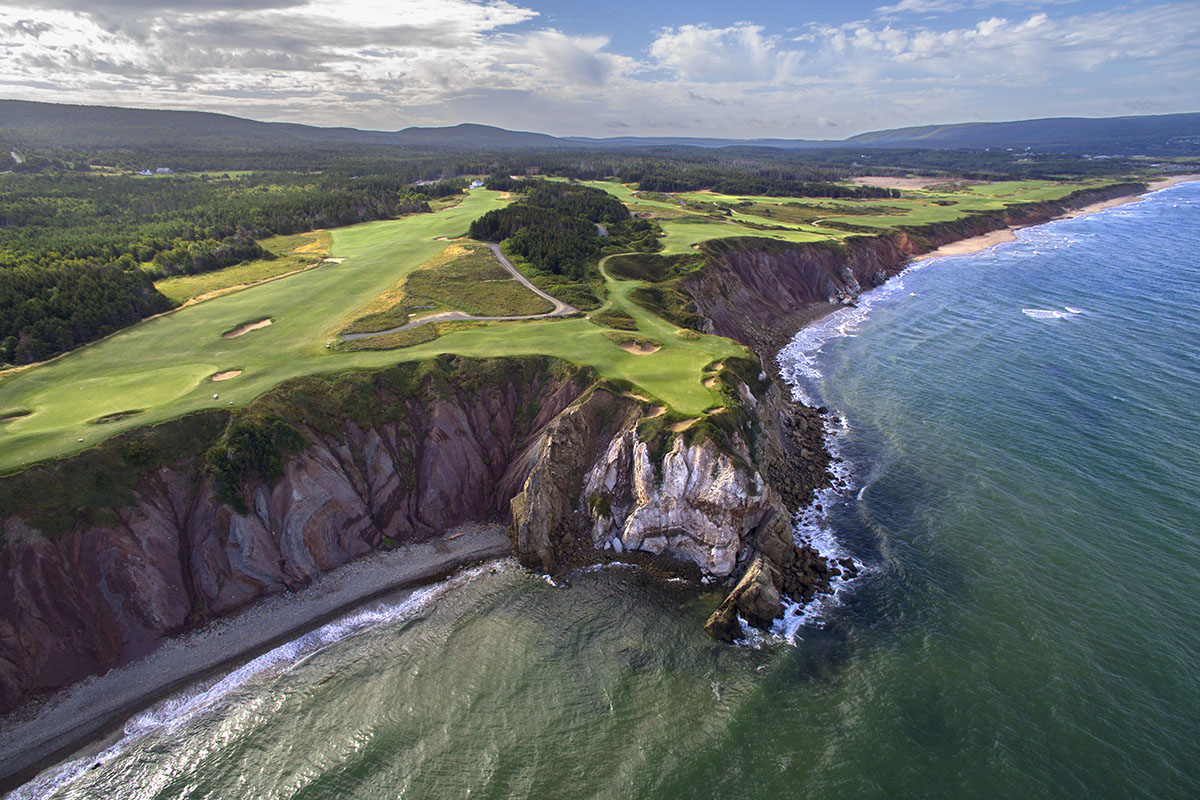 What makes these courses so unique to North America is that they are very reminiscent of the classic links style courses found in Great Britain and Ireland. Many PGA pros have even been known to practice there ahead of the British Open.
For years Cape Breton was relatively unknown as a golf destination, but after Cabot Links was built in 2012 and Cabot Cliffs in 2015, more and more golf fans started to make the somewhat arduous trek to the Island. Since then, Cape Breton has seen steady growth in tourism, no doubt in part to their great golfing experience, and of course, the stunning Cape Breton Highlands National Park.
So you'd think that given the amazing scenery, breathtaking coastal vistas, maritime charm, and world class courses that Cape Breton is some sort of utopian paradise. Well you'd be right, because adding to the island's appeal is that it also has some outrageously low real estate prices. Making it the perfect summer home for avid golfers and retirees. Coming in at an average home price of $138,195, Cape Breton real estate is some of the lowest in the country.
Compared to other popular areas on the list, Cape Breton offers decidedly more value if you were planning on a golf retreat as well as a great place to cottage in the summer. While that average price won't nab you a piece of waterfront property, you can still get your hands on a great waterfront home, chalet or great piece of land for essentially the price of a shed in southern Ontario or lower mainland British Columbia.
However, if you are in the market for something more swanky, feast your eyes on the beach-side properties alongside Cabot Links.
In fact, Cape Breton real estate had recently received its fair share of attention thanks to the rise of Donald Drumpf in the US with a feature on the island by the Washington Post highlighting that the island has much to offer those wishing to flee the US under Drumpf's presidency.
The original campaign "Cape Breton if Donald Drumpf Wins" launched by a local radio DJ had been a catalyst of attention to the island and its real estate. Seemingly overnight, Cape Breton real estate listings saw a sharp increase in traffic. Which obviously resulted in an increase in inquiries to sellers.
With waterfront property in cottage country at a premium along the east coast of the United States, and the Canadian dollar comparatively low, many Americans are seeing coastal Canadian real estate as a bargain compared to what they're used to at home.
It is still a little too early to tell whether Cape Breton is on the cusp of a tourism and real estate explosion. But what is clear is that people from around the world are starting to take notice and appreciate the beauty of Cape Breton which has been one of the best kept Canadian real estate secrets for far too long.
Have a story idea, comment or want to be a contributor? Connect with us at welcomemat@propertyguys.com today!
Author:
Chris Steeves
Chris is an editor and writer for Welcome Mat. He is based out of Moncton, New Brunswick, Canada.